Spring Conference Postponed, Book Club, President's Message
February 11, 2021 by Kirsten Whetstone
Policy/Legislative
President's Message- February 10, 2021
"Good fortune is what happens when opportunity meets with planning." – Thomas Edison
Update Spring Conference 2021
Stay tuned to the Utah Chapter APA website (apautah.org) for Spring Conference 2021 information. Due to the Covid-19 pandemic and exercising an abundance of caution, we have postponed our in-person conference in Kanab that had been scheduled for May. We will optimistically re-schedule for a Fall 2021 in-person conference. Our Kanab colleagues look forward to hosting us and highlighting their area. Rather than risk having to cancel at the last minute, due to some unfortunate spike in Covid cases or other heightened response measures, a series of virtual webinars, presentations, workshops, legislative updates, and communications are in the planning stages for this Spring. If you have presentations, ideas for speakers or topics please forward those to our Executive Administrator, Judi Pickell, at admin@apautah.org.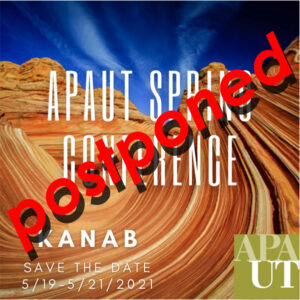 NPC2021 Boston
National APA Conference scheduled for Boston in April will also be a virtual event. For more information on registering see https://www.planning.org/conference/. If you have not attended a National Conference in the past due to travel costs and time away from the office, this would be a perfect year to sign up and discover what is happening in the world of planning.
Kurt Christiansen, FAICP, APA President has this to say:
The format and locale for the 2021 National Planning Conference has been confirmed — NPC21 will be fully digital, May 5-7, 2021. Due to the ongoing pandemic and COVID-19 public gathering restrictions currently in place in Boston, NPC21 will take place as a virtual event.
While we are disappointed to miss all that Boston has to offer, we feel this decision is the best option for maintaining the health of our attendees and staff and allows us to focus fully on planning an energizing and immersive digital conference experience, built around today's needs. We are very grateful to the NPC Planning Committee and our local partners in Boston for their time, work, and expertise dedicated to the conference and look forward to bringing a bit of Boston to NPC21 online.
The NPC21 Call for Reviewers and Call for Proposals are both open now. We are always looking for new and diverse voices, unique insights, and innovative, practical approaches that enable the planning community to successfully adapt to a rapidly changing world. With new ways to get involved, it is easier than ever to participate in the conference program — we invite you to join us in building and experiencing NPC21.
Utah APA Book Club
The Utah APA Book Club first book title is out. Pick up or download a copy of:
The Color of Law: A Forgotten History of How Our Government Segregated America (by Richard Rothstein)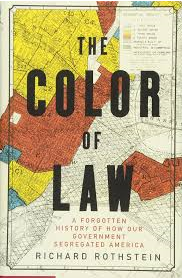 A virtual discussion is planned for mid- May. Details about the Book Club will be posted shortly at www.apautah.org.
As always, if you have questions or comments about anything APA, be it our Utah Chapter or what is happening at National, do not hesitate to reach out. Your news, articles, ideas for workshops and conference sessions, photos, award worthy projects, and insight are welcome anytime. Collectively, we strive to provide opportunities to stay connected and informed in support of your efforts to create great communities for all.
Kirsten Whetstone, AICP
APA UT Chapter President
office- 435-336-0157
mobile- 435-714-9886