MAG Transit Studies
May 27, 2021 by admin
Transportation
It is no secret; Utah County is growing. From the hi-tech enclave of Silicon Slopes, vast recreational activities, educational opportunities for over 60,000 students at BYU and UVU, and our family-friendly lifestyle, Utah County is a development hotspot. With growth comes challenges. Over the next three decades, Utah County will double in size to 1.3 million people. Land use and transportation go hand in hand. As the area urbanizes, more density will naturally occur. The goal is to plan correctly. Can transit friendly development occur to allow for high-frequency transit to function efficiently? Will higher densities occur along major transportation corridors? Will we plan for a well-connected transportation system that will handle our proposed growth?
MAG is the regional planning organization for Utah County. Currently, there are many ongoing studies that will help inform and shape our transportation system. Transit studies top the list.
Central Corridor Transit Study
The outcome of the Center Corridor Transit Study is to create a Bus Rapid Transit (BRT) line along the State ST corridor from the Silicon Slopes area in Lehi south to Downtown Provo. This study has concluded that a system, like the Utah Valley Express (UVX) connecting BYU and UVU works. The next step for this project is to conduct environmental work and seek construction funds. It is planned that if funding is realized, this system should be constructed and operating before 2030. More information can be found at https://www.centraltransitutah.com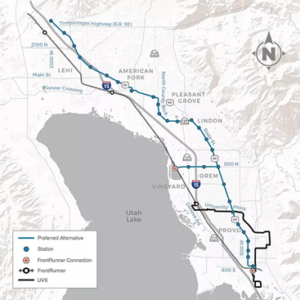 South Valley Transit Study
This study is currently looking at different transit modes feasibility. Commuter Rail, light rail, bus rapid transit, and express bus are all being evaluated between Provo and Santaquin. The study is ongoing and should conclude in the fall of 2021. Environmental funding is being secured with a preferred solution planned to be constructed before 2030. More information can be found at https://www.southvalleytransit.com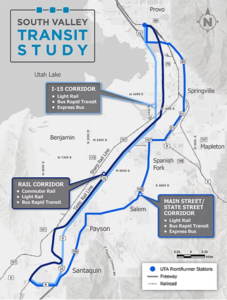 Northwest Area Transit Study
The northwest area of Utah County is an epicenter of growth. The communities of Eagle Mountain, Lehi, and Saratoga Springs went from tiny bergs to over 160,000 people today. Transit has not kept up with this growth. This study is analyzing what types of transit can work in the near term today and in the future. Work should be done this summer with plans to implement new transit service soon.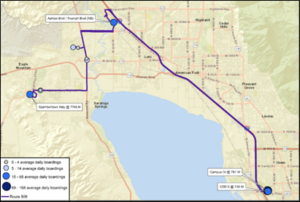 Only one route serves west of State ST Lehi with limited service