An Interview With Ashley Cleveland, MCMP
July 1, 2020 by admin
Featured Members
An Interview With Ashley Cleveland, MCMP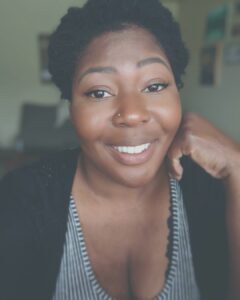 Promise Program Manager| 
Tell us a little bit about yourself? Where did you grow up? If you are not from Utah, what brought you here?
 I have been living in Utah for six years. Both sides of my family are from Georgia; most have never lived outside the state. I grew up moving around a bunch but constantly landed back in southern California. The longest I have lived anywhere was ten years in Ventura County, California.
My mom's parents and grandparents were sharecroppers and direct descendants of slaves. Through the '60s and '70s, the family struggled to maintain safety and support themselves. They settled in Athens after buying a home and leading a church. My great grandfather was a reverend. Like most Blacks in the rural south, my grandparents were brave because they had no choice but to be. They tried their best to maintain what little they had.
My mom moved myself and little brother to the Oxnard-Port Hueneme area because she was in the naval reserves. I spent most of my days near the beach, reading books, and did not know much about mountain life. I moved to Utah in 2013 and was in and out of the state until grad school began in January 2014. After college—thinking I would leave after a couple of years—I was promoted at work and had a child! Since then, I have built a very tight and strong Black and Brown community, and I have grown to love "sharing space" with them. So, Utah has been a place of growth.
Where did you go to college? What did you major in and why?
I started at Oxnard Community College as a first-generation college student because it was simply more affordable—I had been supporting myself since I was 18. While there, I was an English Major, hoping to be a community college Instructor. When I transferred to California State University Channel Islands (CSUCI) in 2009, I declared my major as Environmental Science & Resource Management with an emphasis in Resource Management. I finished my undergraduate studies at CSUCI, which is in Camarillo amid strawberry fields and a completely refurbished adaptive reuse state hospital—or "Hotel California." While there, I took courses on water resources management, population growth, entomology, and even took an extremely impactful service-learning trip to New Orleans. This class introduced me to environmental justice and what that means for city residents.
I wanted to do something to advocate for underserved people, and knowing more about the environment and how all organisms interact with it seemed to make the most sense to me. I spent four years gaining professional experience with organizations like NOAA, the Navy, NPS, and USGS. I spent most of that time doing field biology work, educating the public, or managing volunteers. One similarity I noticed was all these amazing organizations, agencies, nonprofits, and commissions were all trying to protect and conserve natural land from urban sprawl. All of the education and outreach were around health for humans, endangered species, natural resources, and curbing the negative externalities from urban places.
I love ecology and sociology, so Human Ecology was a great fit. That led me to city planning programs. I learned to appreciate the stories of individuals, of communities and places that experience environmental injustice. So, I completed a master's degree in City & Metropolitan Planning at the University of Utah. Once I was well on my way to changing my career, I also wanted more subject area expertise, which I am gaining through professional experience and ongoing research.
Share with us your work experience in city planning?
My first real applicable work was through an Urban Design class administered by Soren Simonsen, AICP. We explored better urban design principles, existing resources, and services for people experiencing homelessness in Utah. I used my own experiences as a chronically homeless child to design a resource center for families experiencing homelessness. The result was a modern adaptive reuse design of the Central Warehouse in Salt Lake City, next to the Old Greektown TRAX station. I became more invested in the local stance on homeless services and gathered some data from my AmeriCorps position at The Road Home to define success of the Housing First model. This work allowed me to qualify for a job with Salt Lake City Corporation—before graduation—as a research and community engagement assistant involved in the site selection process for three new Homeless Resource Centers. Eventually, I took a position working for Millcreek as their first Planner 1 in 2017, which was transformative for me. I learned a lot from our staff, council, and the communities who so diligently pushed to self-designate as a city and invited city staff to work alongside them. I had opportunities to process a variety of visioning projects and diverse applications in many parts of what is now Millcreek.
When and why did you create your program?
I was invited into the equity conversation in 2018. Since the formation of Millcreek, the Mayor and City Council had been impressed with the "Promise" model implemented by South Salt Lake. The promises formed for Millcreek are centered on health, safety, education, and economic wellbeing for Millcreek youth, families, and residents. In 2018, I was promoted to launch a collaborative neighborhood effort with other organizations in Millcreek and other parts of the county and state. I have enjoyed getting to know the quantitative data and qualitative experiences of our residents and working together to pilot interventions that best serve them. Through my community engagement and grassroots activism experiences, I learn with them about how to best position resources and use systems to improve their future. I also appreciate how some members of United Way of Salt Lake use their process to support and collaborate—rather than lead—in this type of work.
Why is your program called "Promise"?
Because it holds us accountable as a municipality, and I think that is something people are looking for—more and more—from their city leaders, their police department, and their city budget. People form place, and place forms people, at least in part—but they are very affected by what programs and services are available in their zip code. Social determinates of health and Maslow's hierarchy of needs must be part of the conversation in planning our communities. Whether it is through strict adherence to Euclidean zoning, or a thoughtless mix of land uses, the types of developments we position for certain populations and not others is partly to blame for undesirable outcomes and underserved residents. I like exploring the relationship between city policies and healthy places. I do what I do to serve people. And I think a healthy place, whether a city or a wilderness, improves the quality of life for everyone.
What projects have you worked on, and what are you working on now?
I have continued working alongside departments such as planning and zoning, economic development, public works, and am now housed in legislative management. For the past couple of years, I have engaged our refugee residents to redesign a city park (Sunnyvale Park). The project took a lot of time to be intentional about community engagement, becoming someone they can trust, addressing their language needs, and incentivizing their voice in a way that is reflective of them.
I am now working diligently to address the needs of Utah's multicultural communities during COVID-19, which is highlighted in the Utah Division of Multicultural Affairs Report. Currently, there is a gap in Internet access for our lower-income residents, which is a significant barrier. Although there are some great interventions, resources, and safety nets available in Salt Lake County and Utah, they require Internet access to utilize them. So, while our education, safety, economic wellbeing, and health subcommittees are gathering resources, Millcreek Promise is partnering with some great grassroots, local, nonprofit, and large business organizations to fill that gap equitably. In the future, we would like to engage with more schools, support more underrepresented folks in participating, investigate an affordable housing plan, and secure more grants for this work. Residents are invited to the Promise "table"—not just to access power but to use it. Through this work, I get to listen to their concerns and hopes and facilitate a process that shapes their future.
Do you have any particular concerns with planning in Utah?
We must make sure that we are serving all communities in our neighborhoods and in ways that best benefit them. Equity is not just equal distribution; it is the filling of gaps in specific ways to improve quality of life—and not in generic terms. Improvements are not always bike lanes; sometimes, it is using linguists and public transit to get folks to meetings. Sometimes it is helping them access investments in opportunity zones. Sometimes it is designing places that are safe for femmes and Black and Brown bodies. We also need Utah to take urgent action regarding climate change with the understanding that native, immigrant, undocumented, disabled, and diverse groups are on the "frontlines" and most affected by this global environmental emergency. I hope that we can address this serious challenge in a serious way, both in local communities and as a state.
Edited by Michael Maloy, AICP, Newsletter Editor
This is a regular column that highlights city planners and planning consultants working in Utah. For more information, please contact Michael Maloy, APA Utah Newsletter Editor, at mmaloy@herriman.org or (435) 496-0431.