The Difference Between a Two Billion and Six Thousand Dollar Project
October 12, 2020 by Nicole Mason
APA Utah, Featured Members
The following article was written by a former University of Utah City & Metropolitan Planning student and APA Utah scholarship recipient who attended the 2019 National Planning Conference in San Fransisco, California.
I think walking tours are one of the best ways to explore cities. I wanted to participate in as many as possible during my trip to San Francisco for APA's National Planning Conference in 2019. Despite not having pre-registered for any, I was able to "waitlist" and join two very different tours on the very same day.
The first tour I joined was called "Transbay Transformation: San Francisco's New Downtown." Staff from the City's planning department, the office of community investment and infrastructure, and someone from the East Cut Community Benefit District led the tour. We walked the Transbay and Rincon Hill areas of San Francisco, which have been experiencing redevelopment for more than 15 years. Hundreds of millions of dollars have been poured into the area for new construction and growth. We visited new transit-oriented downtown developments, including all new housing buildings, which accommodate a percentage of affordable housing. We also visited some of the soon-to-be densest areas of the City. And finally, as the focal point of the tour, we were let into the new 2.2 billion dollar Salesforce Transit Center, which was closed to the public shortly after its opening due to cracked steel girders holding the building up. The top of the transit center is covered in a massive three-block-long park that feels like the High Line on steroids. It's beautiful, and be enjoyed by all. (Following the completion of repairs, the Salesforce Transit Center reopened on July 13, 2019.)
Approaching the Salesforce Transit Center. Salesforce paid $110M for naming rights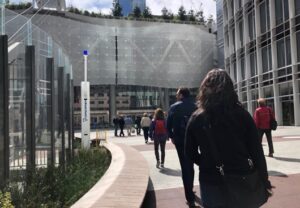 On top of the Transit Center roof is a vast urban park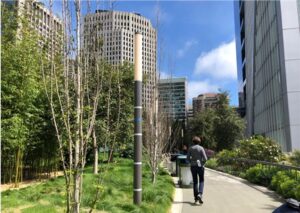 The second tour to the Excelsior District of San Francisco, which is in the City's outer ring, couldn't have felt more different. Instead of new development and growth, this tour was about preserving existing communities, including many small businesses that have struggled to not be displaced by San Francisco's growth and rapidly rising real estate prices. City staff and the nonprofit Excelsior Works! led this tour. We saw the new space for a small business called Navaro's Martial Arts Academy, which had been displaced by a rent increase of nearly four thousand dollars—triple what they had paid before. Although San Francisco doesn't have rent control rules for commercial properties, the City worked with the business to find a new space and provided a sizable grant for tenant improvements.
Navaro's is a recognized "Legacy Business" by San Francisco
Another business we visited was Joe's Pizza, which had benefited from a six thousand dollar grant from SF Shines Express. The façade improvement grant program ensures small businesses have attractive frontages and pairs businesses with local sign makers. Joe's also received a grant to install an ADA automatic door opener. An ordinance was passed requiring businesses to be ADA compliant. This grant was given to help them become ADA compliant and avoid fines. The last small business we visited was actually a local arts nonprofit called "x[space]." They had to go through the wringer to get into their space because it was zoned "commercial," which did not include art organizations. The nonprofit's supervisor co-sponsored legislation to allow for more flexible retail uses, which lead to the transformation of a formerly shuttered meat market into a space focused on artists and community.
Little Joe serves the neighborhood's diverse population by offering Italian and Mexican food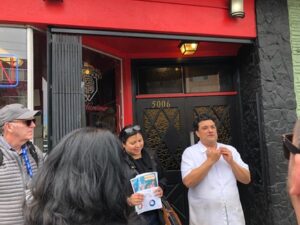 Several things struck me about these two tours. The most obvious was the difference in funding being invested in these projects. The Transbay Transit Center had billions of dollars invested, yet, despite its project completion date of August 2018, the public was prevented from enjoying it because of the emergency closure after a brief six-week opening. Furthermore, project repairs required the installation of a new walkway, which cost an additional one million dollars. With grants that are "drops in a bucket" in comparison, the small businesses in Excelsior have been immediately able to see the impact of their funding. They have seen increased business because of new storefront signs, and people with mobility issues can now access their services.
It is unfair to compare these projects and programs in an "apples to apples" or "dollars to dollars" fashion. However, it raises the question; how much impact does one dollar have? It may depend on where it goes and who it is given to. San Francisco should seriously consider this question.
Contrasting Walking Tours of San Francisco's TransBay Area and Excelsior District
by Amanda Dillon, Community Planner, MHTN
Amanda.Dillon@mhtn.com
Beginning in Washington, D.C., the American Planning Association and its predecessors have held an annual city planning conference—without fail—since 1909. Through droughts and depressions, world war and civil strife, city planners have gathered to share ideas on making communities better places to live. Unfortunately, due to the COVID-19 pandemic, the 2020 National Planning Conference (NPC20) in Houston, Texas, was "canceled." Fortunately, APA was able to reorganize the conference and held NPC20@Home— "a digital conference that (brought) the spirit of NPC to the planning community." Although NPC21 is currently scheduled for May 1-4, 2021, in Boston, Massachusetts, details of the conference remain uncertain at this time due to the ongoing pandemic. However, APA Utah is confident that APA and its leadership will successfully continue this invaluable annual educational experience while protecting the health and safety of its participants. (Michael Maloy, editor)