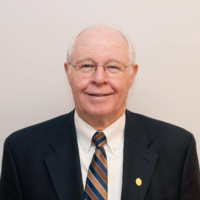 Robert Scott
Planning Director
North Ogden City
Davis County is where Rob learned the practical side of planning. Davis County "farmed" him out to three communities as their planner – Layton City, East Layton City, and West Bountiful City, where he gained expertise on a variety of issues. He was hired by Sandy City in 1978 and oversaw a visionary comprehensive plan that set a direction for the community. Ogden City asked him to help make a transition away from County planning to create their own department. He filled the department with many well-known planners and instituted a system of community plans that became the foundation of the city's general plan in 1999. In addition, he promoted many revitalization efforts, historic districts, with an emphasis on the downtown and neighborhoods. Rob spent 8 years in Medford, Oregon as their planning director. Returning to Utah as the Weber County planning director in 2009, he provided leadership in updating the zoning ordinance, improving customer service, the Snowbasin Master Plan, Countywide Trails Plan, and organized training for county planners throughout the state. Rob completed his career as planning director for North Ogden City and was responsible for a major general plan update and the overhaul of the city ordinances.
Session(s):
2022 Fall Conference, September 9, 2022 3:40 pm
Planners can learn from listening, talking, and observing other planners and professionals. Three recently retired planners (planning experts), with decades of experience, will reflect on the totality and breath of their careers. These reflections will provide answers to the question, "what do you wished you had known earlier in your career?" A professional civil engineer and practicing attorney will offer another perspective, answering the question, "what do you wish planners knew?" The insights of the session panelists will provide attendees with invaluable relationship, decision-making, and professional development guidance. This session will benefit all planners, including students, citizen planners, and professionals at various stages of their careers.

= Keynote