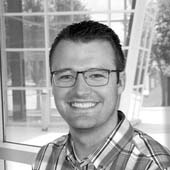 Ryan Robinson
Rural Community Consultants

Ryan is originally from Parowan Utah with a passion for working with rural communities. He has worked with various government agencies, including multiple municipalities as well as the Utah State legislature. His professional experience includes being a City Planner, Field Representative for a federal political office and campaign, leadership team for a University political center, and working in construction management. Ryan has successfully worked on numerous projects on a local municipality level and brings experience on rural issues for a variety of projects. Prior to his current role, he was with Francis Town in Summit County, Utah.
Session(s):
2022 Spring Conference, March 25, 2022 11:10 am
To be "rural" means different things to different people. Likewise, to be a "planner" means a lot of different things to different people. One common identifier is that planners look ahead. The purpose of this session is to gather planners that work with rural issues (that's you) for an interactive discussion (with you) on what rural Utah will look like in the next 10 years, and what we can do now to maximize its positive potential. Rural Community Consultants will moderate the session, and it will only be as inspirational, informative, and as irreverent as you make it. There might be a t-shirt cannon.

= Keynote