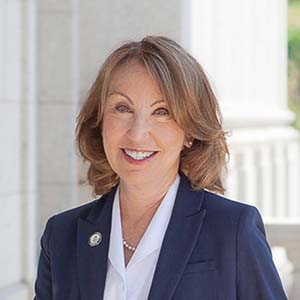 Rosemary Lesser
Representative
Utah House of Representatives
Representative Rosemary Lesser is currently serving her second term in the Utah legislature. She is a graduate of the University of Notre Dame where she received her B.S. in Preprofessional Studies. She received her M.D from the Uniformed Services University and served in the US Air Force for 15 years. As a specialist in OB/GYN, she has lived in Ogden for the past 31 years. As a physician, she recognized the important of planning in guiding women in their health journeys; now she employs similar skills as a policymaker.
Session(s):
2023 Fall Conference, September 28, 2023 9:00 am
As the fastest growing and most urbanized state in the nation, Utah faces unique planning challenges. State policy makers must confront the changing dynamics of Utah's population: demographic shift, housing and transportation needs, and pressure on natural resources. In this keynote, Rep Lesser will present how the Utah legislature approaches growth in our state and the need to embrace change.

= Keynote