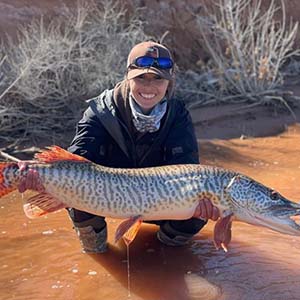 Natalie Boren
Natalie Boren, fisheries biologist with the Utah Division of Wildlife Resources (UDWR), is a graduate of Mesa State University (bachelor's) and received her master's from Utah State University where she researched the walleye fishery at Red Fleet Reservoir. She is in her 15th year with the UDWR during which she has held numerous positions within the aquatic's section. She began working for the UDWR as a seasonal in 2005 on endangered fishes in the Green River and earned her first full-time position in 2007 as the Northeastern Region's first aquatic invasive species biologist. Natalie moved on from that position, becoming the region's Colorado River cutthroat trout biologist, and is now the lead on lake and reservoir sport fisheries in the region. She enjoys working with our anglers and has a passion for teaching our youth to fish and learn responsible recreation in our amazing area. The Old Fort Pond community fishery was a 4-year project from start to finish; it has been the most rewarding project of her career thus far!
Session(s):
2023 Spring Conference, May 10, 2023 2:45 pm
Old Fort Ponds (at the historic site of Fort Thornburgh) are Vernal's first and only true community fishing ponds. In this session, learn how the Utah Division of Wildlife Resources (UDWR) worked with community partners to complete this project and how a similar project in Roosevelt city is progressing.

= Keynote