Problems with HB98
February 22, 2021
Well, it's not Monday, but I'm back early because I want to share with you all a really good posting by our good friend Francis Lily, Millcreek City Planning Director, about problems that HB98 – Local Government Building Regulation Amendments could result in for the design limitations part of the bill.  He's given me permission to share this with you.  Here it is.
I don't want the perfect to be the enemy of the good, but I do want to share my remaining concerns about townhome developments that are not covered in an overlay zone, or approved as part of a rezone through development agreement.  We have a lot of multifamily zoning along our corridors, and these areas are considered very attractive for new development – and townhomes are all the rage.
In the last several years, Millcreek has approved a lot of these townhome projects, and they are leaving a lasting impression on our corridors, and not always a good one:
I grant you that some are better than others:
These are just a few examples to show that some builders are good designers and others – candidly, not so much. It is the mediocre- or bad-looking projects that are making it difficult to overcome community resistance to rezones and other efforts at multifamily. The first picture above is from a project that is frequently cited by community activists as a reason not to approve any more!
I know from experience that good design helps ease resident concerns about height, density, and bigger changes to a city. I also know that an ugly project can actually throttle our attempts to rezone for density, mixed uses, and inclusive housing types in our community.
I've told developers – more than once – that one of the keys to getting a project to go through smoothly is to produce an excellent design, and to spend some money on quality materials. This is one of the reasons that we in Millcreek were able to vastly expand the entitlement options in an existing commercially-zoned area that we identified as a city center. We enabled additional heights and reduced parking requirements in exchange for, among other things, a commitment to quality design, good rooflines, and good materials.
Having learned some lessons from projects we approved in the last few years, we undertook a process to update both our commercial and RM zones with requirements for better design. The big touch points in the community are the very things HB98 seeks to prevent us from addressing: rooflines, materials, and windows.
Often times, these projects are on big busy corridors and they are immediately adjacent to long-established single family neighborhoods. Rooflines, materials, and windows are big issues, and I would like to maintain some ability in our code to address these.
If we lose the ability to appropriately regulate the design of townhomes in our community, I am inclined to recommend that the City reduce the maximum density allowed in our RM zone to something like 15 units per acre and to create an overlay zone for higher density projects, including townhomes. A developer could apply for the overlay zone, which would make it a legislative action subject to a development agreement. We could overcome the issue that way, but I note that my solution would also be cumbersome for both the developer and the city.
I would prefer a process where the rules are clearly stated, where we have the ability to promote high-quality design, and where the entitlements are clear from the get-go.
We've worked really hard to achieve a community consensus on higher-density housing, and part of the deal was a commitment to better design. You can see this trade off expressed in our general plan. That consensus, right now, sits on a knife's edge. I'm afraid that legislative pre-emption that limits our ability to enforce design standards will make it more difficult for us, down the road, to encourage higher density housing along our corridors, which is something we need.
Anyway, that's just my $0.02. Again, I do appreciate you working on our behalf on this issue and I give you much credit for making this bill much better than what it started out as. [He's referring to Gary Crane who has been negotiating this bill on behalf of the League]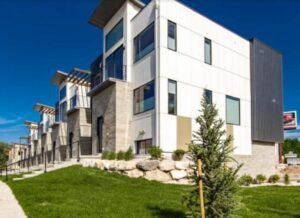 Thank you and have a good weekend!
Francis Xavier Lilly, AICP
Planning Director
Office: 801.214.2752
Millcreek.us
Wilf Sommerkorn
Co-Chair, APA Utah Legislative Committee