What aren't we going to do?
February 23, 2021
"The question isn't 'What are we going to do?' The question is 'What aren't we going to do?'"
With apologies to fans of that classic movie, Ferris Buehler's Day Off, yesterday turned out to be a not so good day for me to take off and do some other things because all kinds of stuff happened at the legislature, particularly late in the day.  And in reference to the quote above I stole from the movie, with so much land use stuff on the plate in the legislature at this point, some of this just isn't going to get done.
Okay, here's the summary:
Land Use Task Force bill
It's out!  Finally the main land use task force bill came out yesterday.  It is HB409 – Municipal and County Land Use And Development Revisions.  Here's a quick summary of some of the things it includes:
Requires Planning Commissioners to complete four hours of land use training annually; one hour must be basic training on LUDMA, and three hours on other land use topics, examples of which are given in the bill.  One of those three hours can be achieved by attending at least 12 planning commission meetings within a calendar year.  Interestingly, it also stipulates that a newly appointed commissioner cannot participate in a PC meeting until having completed the one hour of basic training.
Indicates that standards set in ordinance for conditional uses must be "objective" – duh! (this comment is strictly the opinion of the writer of this update and may not reflect the positions of more responsible parties)
A(nother!) provision added to the vested rights section that indicates that a local entity may not impose a land use regulation on a building permit for a lot in a subdivision that was recorded less than 10 years before the date of enactment of the new land use regulation (honestly, this vested rights section has gotten so complex now, it needs it's own training session – which, by the way, we plan to do)
A new section added to LUDMA on development agreements. This was prompted by the recent court decisions on development agreements that seemed to circumvent the legislative process for land use provisions.
A new section added to LUDMA for road standards for "low impact developments".  Again, an editorial comment here, LUDMA is getting so complex and bulky now too, that it is becoming increasingly difficult for planners and citizens to read and make sense of.  And wait till you see what's in store in HB98 and in the billboard bills!  This is what prompted us to recodify the whole land use code back in the 1990s and again in 2008.  Here we go again!
Adds a provision in the appeal authority section that states an appeal authority may not hear an appeal to the enactment of a land use regulation, which is a legislative action – again, duh! (see disclaimer above).
It's great to finally! get this bill out because so much time was spent on it by the Land Use Task Force last year, but it's a crap shoot as to whether it can get through the session now with less than two weeks remaining.  We shall see.
HB98 – Local Government Building Regulation Amendments
My gosh, the time that has been spent on this bill and the complexity of what it may turn out to be is mind numbing.  First, let me extend a hearty vote of appreciation to Gary Crane, Layton City Attorney and long-time negotiator on land use issues for the League (and a good friend) who has gotten a bill that is "inevitable" to become something that local governments can at least live with.  The bill in it's original form (see link above) was something completely unacceptable to local governments.  This is actually the second year for this bill, it was "delayed" last year by modifying it to allow the League to see if local entities were indeed not meeting the time limit provisions to approve plan checks and complete building inspections as required by state code.  Turns out the vast majority were indeed meeting them (a few, admittedly, were not).  But apparently that didn't matter, we got the return of Godzilla anyway.  And, on the building design part of the bill, even more draconian (Godzillian?) provisions, proffered in the name of housing affordability.  The reaction from local governments has been strongly negative, as anticipated.  I shared with you all in an earlier update a post from Francis Lilly, Millcreek City Planning Director, about the issue these design provisions would raise in his community (if you missed it, you can see it here).  And here's a news story about some of the local reaction.
This bill was discussed for a long time in yesterday's League Legislative Policy Committee meeting, and here's a slide shot of the changes that have been negotiated to the bill on the design provisions (the plan check and inspections provisions are modified some too, but in the interest of your attention span, I'm not including them here):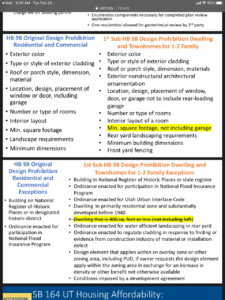 Wow!  Like I said earlier, good luck keeping up with all these specifics that are being added over time to LUDMA!
Anyway, there are still a few points of contention that need to be worked out as highlighted on the slide.  The substitute version of this bill was supposed to have come out yesterday ahead of a planned hearing on the bill in committee today, but that did not happen.  The League has taken the position to continue to oppose the bill until a substitute version comes out that includes all the points discussed in yesterday's meeting.  If that happens, their position will change to neutral on the bill.  And they are only doing that rather than outright opposing it, I believe, because it is apparent from legislative leadership's stance that some version of this bill is going to pass, and this will likely be the best that can be negotiated.  Ta-da!
Billboard bills
There's been some interesting action on the billboard bills as well.  SB144 – Billboard Restrictions Amendments, after it's committee hearing last week, was shown to clearly be mainly about an on-going legal battle between the billboard industry and Salt Lake City (what a way to make statewide policy).  As such, the League and local governments remain firmly opposed to the bill.  Yesterday, the bill came up for a 2nd Reading vote in the Senate (which is often pretty perfunctory, as the bill must then also win final passage on a 3rd Reading vote).  The bill got a 13-11-5 vote.  Under Senate rules, bills must receive a vote of the majority of the Senate (which has 29 member), which this one did not, so it fails.  Here's a news story about that action.  The story seems to imply that the bill is now dead, but as those who have been involved in the legislature for any length of time know, that is not necessarily the case.  Even failed bills can be brought back for reconsideration, and that is very possible with this one.
On SB61 – Outdoor Advertising Amendments, one of the main points in the bill is that in the interests of "fairness," any jurisdiction that allows on-premise electronic signs would also have to allow billboards to be converted to digital.  The argument against that is that in some entities, the digital on-premise signs that are allowed are much smaller than billboards, so how is that equitable?  Also, such signs may be limited to certain zones or areas, but the bill would allow billboards to be converted anywhere they may be located in the community, even in residential zones.  So the League is taking a stand that these provisions need to be changed if it is to be truly "equitable."  Watch this space for future changes!
Fees
It was apparent through much of last year that the development industry continues to be concerned about the fees that are charged by local governments for land use applications, building permits, and impact fees, arguing that these contribute substantially to the increasing cost of housing.  One of the points they have been pushing is that these entities charge fees that are not justified but are instead used as general revenue sources for the communities.  They say that fees need to be tied to actual costs, and have been advocating for language to do so.  Local governments have been pointing out that there is already language in state code that requires this and that most, if not all, are complying, as they must.  No matter.  Several bills this year contain language that would put very onerous requirements on local governments to estimate actual costs, tie fees to those estimates, and account for them in specific individual accounts over time.  This would add a considerable administrative burden to entities to do this, and in reality achieve hardly anything.  So now, in addition to these provisions being included in a couple of other bills, yesterday a new bill, HB401 – Fee Amendments was released which would enact these changes as a stand-alone bill.  Looks like the effort is to try in several different ways to get this done.
Short-Term Rentals
Also released yesterday was SB221 -Short-Term Rental Amendments.  This bill would make some changes to the provisions about short-term rentals that look like they would undo some of the agreements that were reached in the hard-fought and contested short-term rentals bill from a couple of years ago.  One of the main sticking point is that this bill would prohibit local governments from not allowing space in an owner-occupied dwelling to be rented out as a short-term rental.  This goes directly against what had been negotiated and included in HB82 – Single-Family Housing Modifications, the ADU bill, which would allow local governments to restrict ADUs from being short term rentals.  This was explained to the sponsor of this bill, Sen. Anderegg, who indicated that this bill was drafted early in the session without knowing what would be in the ADU bill.  The League has indicated that they will oppose this bill.
Utah Lake Authority
The recently unveiled HB364 – Utah Lake Authority, which had been described by some as the Inland Port Authority brought to the areas around Utah Lake, has been the subject of intense discussion with the bill sponsor, Rep. Brady Brammer and the communities around the lake.  Led by Saratoga Springs city manager Mark Christensen, the group has gotten Rep. Brammer to agree to a number of changes to the bill that would make it much more acceptable, including nixing provisions for the body to have land use authority.  A substitute bill is expected soon with these changes.  The bill is scheduled for committee hearing tomorrow morning.
Other Stuff
Whew!  So much for taking a day off!  See what it gets you?
Here's something of interest, given all the discussion lately about housing affordability.  A recently released study from the Gardner Policy Institute at the U. indicates that higher density development may actually raise the value of homes located nearby!  Really!  Don't know if that will really turn out to be an argument that can be used in upzoning hearings, but hey!  Worth a shot!
https://www.sltrib.com/news/2021/02/22/yes-my-backyard-study/
https://www.deseret.com/utah/2021/2/22/22289738/do-high-density-apartments-decrease-nearby-home-values-utah-study-says-no
Wilf Sommerkorn
Co-Chair, APA Utah Legislative Committee