Economic Development After the Rise of Telework
January 19, 2022 by Ted Knowlton
Policy/Legislative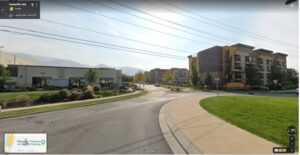 Legacy Crossing, Centerville Utah
For local governments in Utah seeking to have a healthy municipal budget it has long been a basic objective: attract retail!
50% of the sales tax generated at a brick and mortar store stays in the community in which the purchase was made.
With the ongoing and significant shift of retail sales to online – away from brick and mortar, a trend that has been rapidly accelerated during COVID-19, does this basic objective still hold?  How has it changed?
The answer may not be obvious.  Here are a few things to note:
Residential tax-revenue power is significantly greater now.  In Utah when someone buys something online, the location of the transaction acts just like a brick and mortar store.  So if someone makes an online purchase from their home, which is happening more than ever due to COVID-19's spike in telework, half of the sales tax stays in that community.
As a note, community by community sales tax revenue can be found here: 
Home-buying decisions are more guided by quality of life than ever before.  With telework, close proximity to job centers has dropped as a driving factor in selecting where to live.  Reflect on this for a minute.  A community can no longer bank on a central location for being enough to be attractive for highly mobile homeowners.  A community MUST also offer a high quality of life.  
Take a look at this chart from a National Association of Realtors survey conducted in the midst of the pandemic that asked which community characteristics are very important in deciding where to live.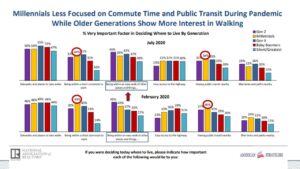 Every single characteristic that relates to a short or manageable commute is down when contrasting mid pandemic to before the pandemic: 
Being within a short commute

Easy access to the highway

Having public transit nearby  
Quality of life definition for homebuyers is marked by walkability.  Continuing to look at the same NARO survey.  All of the elements that relate to a walkable, bikeable community have increased.  
Sidewalks and places to take walks

Being within an easy walk of other places and things

Bike lanes and paths nearby
Again, all elements that relate to shorter / easier commuting are down, but all items that relate to more walkability are up.  People aren't necessarily looking for workplaces within their residence's community, but they are looking for attractive, walkable convenience.  
There is corroborating evidence here.  
Residents in bedroom communities are localizing more of their activities.  Take a look at Davis County trip data, selected because it is the most bedroom-oriented of the four core Wasatch Front counties.  Contrasting home-based trips from before and during the pandemic (regardless of mode: walking, bicycling, driving, transit), there are many more very short trips less than a mile and many fewer medium length trips 1 to 3 miles long.  
Source: https://www.bts.gov/browse-statistical-products-and-data/covid-related/distribution-trips-distance-national-state-and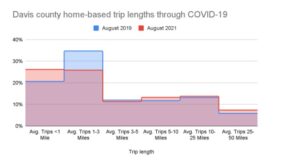 The hypothesis is that as people are spending more time at home teleworking they are looking for convenience and recreation close to home.  When this data is combined with the NARO survey it should say to communities: are you a walkable bikable community?  Is it safe to walk and bike: sidewalks, trails, and bike paths?  Are there meaningful things close to neighborhoods to walk and bike to?
Key message: Quality of life, marked by walkability could be a central objective for economic development.  The way to attract the highly mobile teleworker.
Written by: Ted Knowlton, AICP