After 2 decades of planning, Ogden's 'game-changer' transit project is ready to roll
August 7, 2023 by Nicole Mason
Local
https://www.ksl.com/article/50700571/after-2-decades-of-planning-ogdens-game-changer-transit-project-is-ready-to-roll
OGDEN — By the time Ogden Mayor Mike Caldwell took office in 2012, the city and Utah transit officials were a decade into discussions and planning for a transit project to better connect the city.
What started as a proposed gondola and then a streetcar system remained one of his priorities. But it would take another decade — and almost his entire duration in office — to get it to the finish line before it eventually became what it is today: the Ogden Express, a bus rapid transit system with a series of buses and stations similar to light rail service but at a fraction of the cost.
"This is what we felt would be the best-case scenario for all of us for what the community could afford, what was going to be convenient (and) what was going to be easy," Caldwell said, standing near one of the new Ogden Express stations Wednesday. "This has been a really important thing when you look at connecting the community with (Weber State University)."
The system, more than two decades in the making, is now all but ready to open.
More than a hundred federal, state and local officials, and residents, gathered by a station at the Solomon Center Plaza on Wednesday to watch as one of the electric buses attempted to snap a ceremonial ribbon. Confetti shot out as the bus struck the ribbon, but the ribbon didn't break.
It was about the only major mishap since construction began two years ago, as the $120 million project was completed on budget and on time, said Utah Transit Authority Executive Director Jay Fox. The project received a $64.5 million grant from the federal government in 2020 plus about another $20 million from the Federal Transit Administration, while the rest came from various other state and local sources.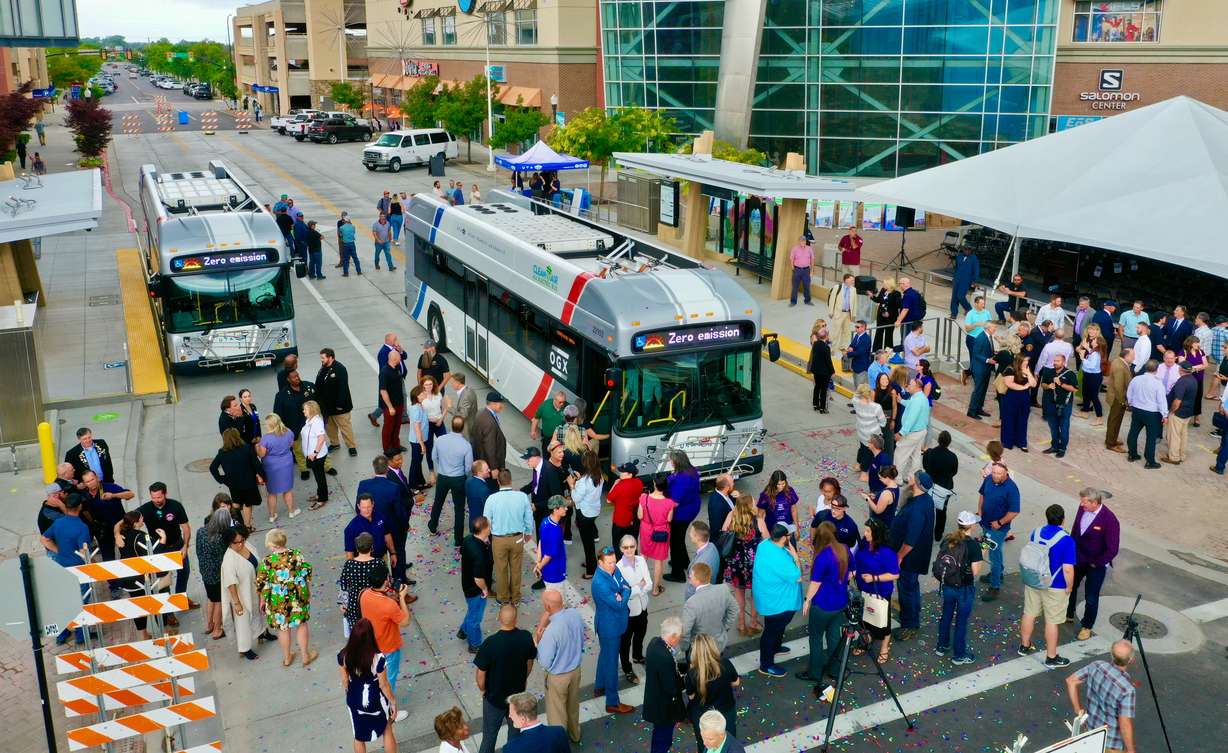 Residents will be able the ride the bus from the Ogden FrontRunner station to Weber State University and McKay-Dee Hospital via downtown Ogden beginning on Aug. 20, when the agency's new schedule begins.
The fleet of 11 electric buses will travel through 22 small stations scattered along the route. It will run every 10 minutes from 4:30 a.m. to midnight on weekdays, every 15 minutes from 9 a.m. to 10:30 p.m. on Saturdays and every 30 minutes from 10 a.m. to 6 p.m. on Sundays after that. There is no fare to ride it for the first three years because of a stipulation in the federal grant.
The project also features dedicated bus lanes and signal priority at 19 traffic lights in the city.
Once operations begin, it will join the Utah Valley Express as UTA's only bus rapid transit systems right now.
A 'game-changer'
A section of the route by the Weber State campus already opened last year and immediately gained favorable reviews from students of a university that's growing in leaps and bounds, says WSU President Brad Mortensen.
The school's enrollment almost reached 30,000 for the first time last year; however, there are less than 5,000 available parking spots, according to city and school officials. Students told Mortensen and other administrators that the service helped them travel through campus without worrying about finding a parking spot.
"Unprompted, unsolicited from me, many, many students described that project as a 'game-changer,' being able to park efficiently and reliably get to class," he said. "Having the full line in effect will only magnify that."
---
This is a generational project for us. … I'm really proud of it.
– Ogden Mayor Mike Caldwell
---
Caldwell says he expects many students will ride the bus when full service begins, pointing to the success of Utah Valley Express. The other system, which connects Orem and Provo, quadrupled its student ridership expectations when it formally launched in 2019.
However, Caldwell also believes it will have a similar impact citywide.
"This is a generational project for us. This will way outlast my time in office and everything else," he said. "I'm really proud of it. There's a lot of work that went into this."
The future of transit?
The Ogden Express isn't just UTA's second bus rapid transit project, it's also a model that many cities across the country are looking to for more efficient transit at a lower cost, said Federal Transit Administration Administrator Nuria Fernandez, who traveled from the nation's capital to Utah for Wednesday's ceremony.
"Bus rapid transit is truly a faster way to travel. It is light rail on rubber tires," she said. "We're seeing a lot of successful bus rapid transit around the country — Pittsburgh, Minneapolis, Austin, we just gave a grant in Spokane. And now we have this Ogden bus rapid transit we're (opening)."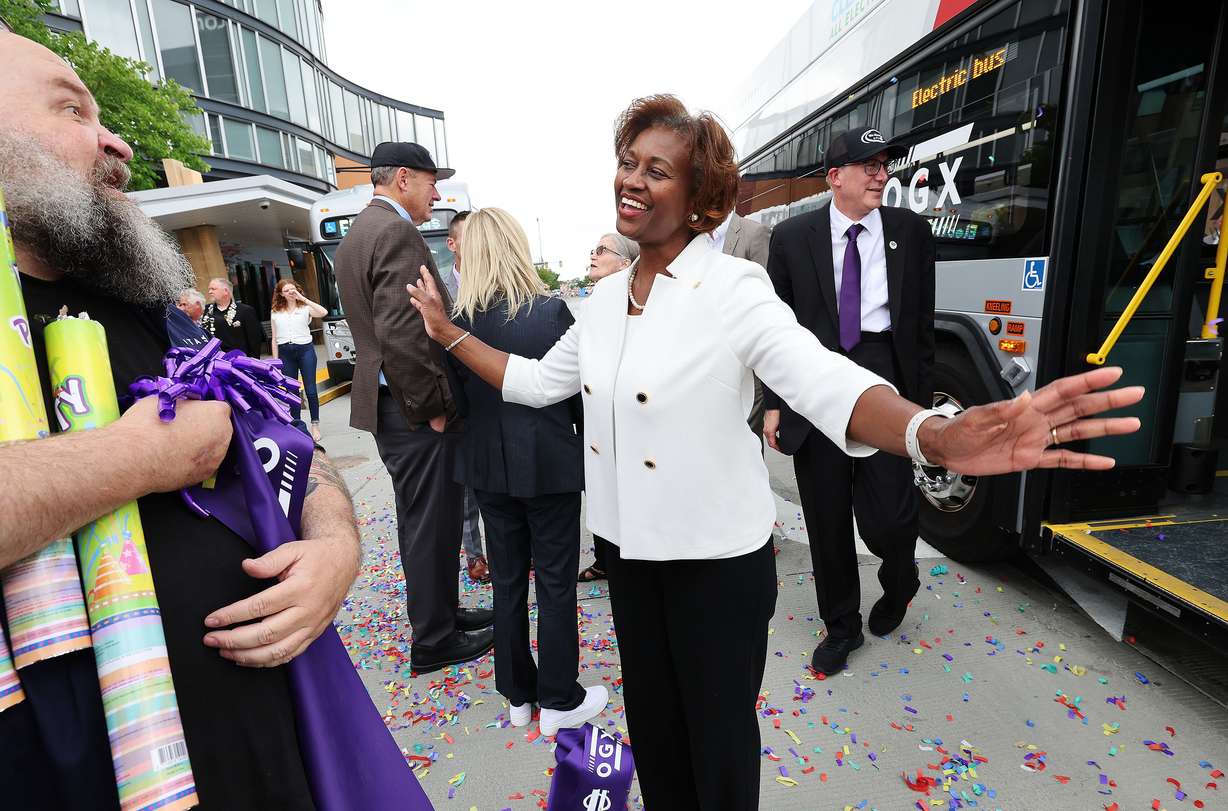 There are also multiple bus rapid transit projects in the works across Utah.
Future projects include a system tentatively scheduled to open in Summit County in 2025, while Fox said UTA is hard at work planning out the Midvalley Connector in central Salt Lake County and a system that runs between Salt Lake City and Farmington among its next bus rapid transit projects.
He believes bus rapid transit systems help "complement" the agency's rail network. And while many of the new major projects now focus on rapid bus service, he said it really depends on what the "best solution" is for a community when it comes to bus versus light rail.
In this case, Ogden had the right road network to support the new bus service. With it in place, Fox says people can grab a bus at Weber State, ride it to FrontRunner and travel anywhere within the UTA service area.
"That's the amazing thing about this project, it just unifies, in so many ways, the entire system," Fox said. "It gives everyone everybody access to opportunity throughout (the region)."