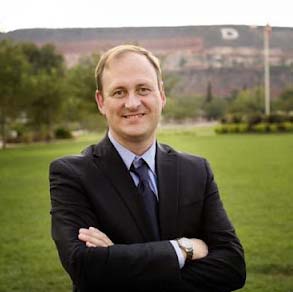 Bryan Thiriot
Executive Director of Five County Association of Governments

Bryan Thiriot was appointed as the Executive Director of Five County Association of Governments on May 1, 2013. Bryan is a native of St. George, and graduated with an Associate of Arts degree from Dixie College. He then transferred to Weber State University where he earned a Bachelor of Arts degree with honors majoring in Political Science with a minor in Communications. At Weber State, Bryan was elected and served in student government his senior year. Bryan continued his education at the University of Utah where he earned a Master's of Public Administration graduate degree. His research project focused on the then proposed annexation of Wendover, Utah into West Wendover, Nevada; or "Line Dancing: Municipal Unification Across State Borders". This research was presented to the Western Political Science Association in Oregon, and in Chicago, Illinois.
Professionally, Bryan has over 15 years of experience working in the Congressional arena. He worked for two United States Senators, Orrin G. Hatch and Robert F. Bennett, spending time in Washington D.C. on Capitol Hill, and in the Northern and Southern regions of Utah.
Bryan is married to Kathy Bischoff of Ogden, Utah, and they have three children.
"I enjoy serving in this position with a great team in this area of southern Utah that I call home; and working with everyone involved with the Five County Association of Governments" – Bryan Thiriot
Session(s):
2022 Spring Conference, March 25, 2022 11:10 am

= Keynote