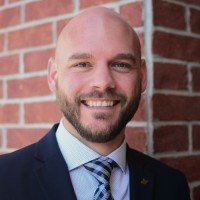 Scott Hess
Planning Director
North Ogden City
Scott Hess is the planning director for North Ogden City, Utah. He leads a department whose work covers general plan development, short range planning, business licensing, building permit review, and economic development. He brings fifteen years of experience spanning positions in municipal, county, and regional planning. In his free time he enjoys spending time outdoors, and riding bikes around the neighborhood with his wife and three daughters. He holds a B.S. in Urban Planning and a Masters of Public Administration from the University of Utah.
Session(s):
2023 Spring Conference, May 12, 2023 8:15 am
We're calling it the Year of the Planner, or maybe the Planners Full Employment Acts. So much happened during this year's legislative session regarding land use, planning and housing. We will recap the bills that were passed by the legislature this year and talk about what it will require of local officials and staff to comply with all the new requirements. We'll also talk about some of the implications of these legislative actions, and what to maybe expect in the future.
2022 Fall Conference, September 8, 2022 2:30 pm
There is no shortage of controversy in Utah's land use realm. Often a single action by a landowner, developer or community can snowball into legislation that impacts the state. It is vital to understand what legal and legislative issues are currently of concern and what solutions are being considered. This is intended to provide a forum to discuss the hot button issues that appear to be rising to the top in preparation for the 2023 Utah legislative session. The APA UT – Legislative Committee will present what they are hearing in regard to – 1) Design Standards, 2) Temporary Ordinances (moratoriums), 3) Development Agreements, 4) Referendum's and 5) Short-term rentals, as well as provide opportunity for discussion on other legislative topics.
2022 Fall Conference, September 8, 2022 1:15 pm
Planners, have you met all the recent deadlines for land use updates recently passed under State Law? Water, housing, internal accessory dwelling units, Lamma watershed protection areas? JK, no Lamma's yet but come to this session to learn about what was passed, where to look for help, and what may be coming down the pike this legislative session.

= Keynote