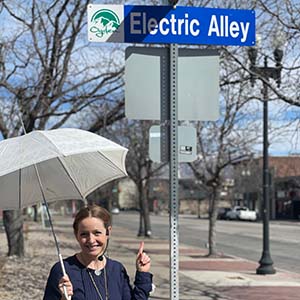 Katie Nelson
Historian
Weber County Heritage Foundation
Dr. Katie is passionate about world history and its connection to Utah. She teaches courses at Weber State University, and podcasts women's history to a global audience as host of What'sHerName Podcast. She is the author of two popular history books and is currently finishing writing a history of the world in lost women.
Session(s):
2023 Fall Conference, September 29, 2023 2:40 pm
Weber County has an amazing legacy of pioneering women. Come learn about what this legacy has translated to in this session on the Untamed Women of Ogden. The Weber County Heritage Foundation will present the efforts of our community to keep people engaged in the history of the area, from History in a Minute videos to walking tours of significant historical sites. The discussion will then shift to a walking tour led by Dr. Katie Nelson, who will lead a group around significant sites in the 25th Street area and talk about how women have shaped the community. This is a session/walking tour you will NOT want to miss!

= Keynote