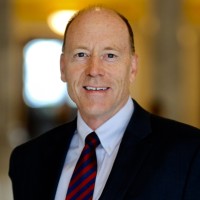 Alan Matheson
Executive Director
Point of the Mountain State Land Authority
Alan Matheson is the executive director of the Point of the Mountain State Land Authority. In his role, he is charged with preparing for and overseeing the development of 'The Point'. Prior to his current role, Matheson served as the executive director of the Utah Department of Environmental Quality and senior policy advisor to Utah Governor Gary R. Herbert. He also worked as the executive director of Envision Utah. Matheson worked closely with the Metropolitan Planning Organizations to develop long-range land use and transportation plans for the region. He was the founding director at both the Utah Water Project and the Utah Clean Air Partnership (UCAIR). Most of Matheson's career has been dedicated to public service in Utah. Matheson has a deep love for the state and a desire to use his unique experience and skill set to help it continue to thrive.
Session(s):
2022 Fall Conference, September 8, 2022 9:00 am
Join us for a discussion about the development of nearly 700 acres of state-owned property called 'The Point'. Widely recognized as one of the most important economic development opportunities in state history, The Point offers unprecedented potential to create an innovation hub that fosters technological advancement, facilitates mixed-use urban areas and preserves parks and open space.

= Keynote