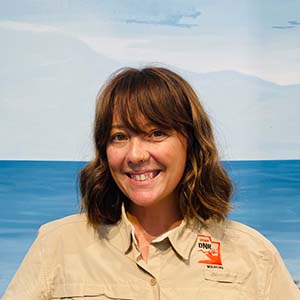 Ashley Kijowski
Wildlife Coordinator
State of Utah
Currently, Ashley is a Wildlife Coordinator at the Eccles Wildlife Education Center in Farmington, Utah. She manages operations, budgets, and partnerships, fostering a professional yet welcoming atmosphere. Her dedication to community outreach, avian ecology, wetland science, and project management has driven the programs and interpretation installations. Previously, during her 9-year tenure as a Wildlife Biologist for the Great Salt Lake Ecosystem Program, she immersed herself in understanding the delicate Great Salt Lake ecosystem. By designing and conducting research, analyzing data, and creating engaging presentations, she connected diverse audiences to the lake's vital importance. She absolutely loves working for the Division of Wildlife and feels that she is currently in her dream job. Come out and visit the Eccles Wildlife Education Center and she'll talk your ears off.
Session(s):
2023 Fall Conference, September 29, 2023 3:50 pm
The Great Salt Lake is an amazing resource—not just for the counties who share a stake in it, but for the entire region. As we look to the future of the GSL and how to protect it, watershed management becomes an important part of maintaining lake levels and habitat viability. Land use decisions in our local communities have a significant impact on the continued health of this valuable resource. This session will discuss what we can do to ensure the ongoing health and importance of the GSL.

= Keynote