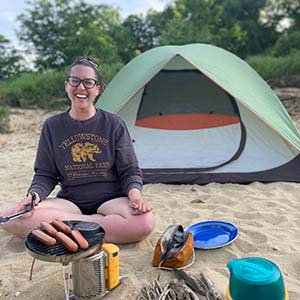 Jordan Katcher
Initiatives Facilitator
Wallace Stegner Center's Environmental Dispute Resolution Program
Jordan Katcher is an Initiatives Facilitator within the Wallace Stegner Center's Environmental Dispute Resolution Program and also an Associate Instructor within the Department of City & Metropolitan Planning at the University of Utah. From a rural community in northwestern Pennsylvania, she deeply values community cultures, collaboration, and inclusivity. She has lived in ten states (Florida, Pennsylvania, Iowa, Virginia, New Mexico, North Dakota, West Virginia, Oregon, Idaho, and Utah), and in southern Germany. She completed her B.A. in Anthropology and English from the University of Virginia, and a Master of Community & Regional Planning from the University of Oregon.
Session(s):
2023 Fall Conference, September 28, 2023 3:00 pm
COVID-19 challenged traditional city-planning timelines, funding mechanisms, decision-making models, and engagement strategies, and stressed our parklands/natural areas, transportation networks, and housing resources. These challenges were arguably most acute in small communities that boast high quality of life, access to the outdoors, and a lower cost of living than major metropolitan areas. This presentation covers the difficulties small communities have faced with as post-pandemic urban flight continues to increase demands for workers, housing, retail, and transportation. The panel will share examples of specific communities/regions in Idaho and Utah, including the challenges they faced and some of the tools that are being implemented to proactively deal with the Zoom Town effects. A panel discussion concludes the presentation. Case study communities
2023 Spring Conference, May 11, 2023 2:50 pm
The Gateway + Natural Amenity Region (GNAR) Initiative exists to help western GNAR communities thrive and preserve the things that make them special. Join the GNAR Initiative team for an interactive session, where we'll be showcasing our latest resources available to gateway and rural Utah communities. Our team will also be soliciting thoughts and feedback on piloting a GNAR online training program. Come join us and help shape resources for your community!
2022 Fall Conference, September 9, 2022 12:00 pm
Are you a prospective or current planner with less than 10 years of experience? If so, we encourage you attending our Utah Emerging Planners Group luncheon, where you'll have the opportunity to connect with emerging planners across the state and brainstorm future events for our initiative. Come be friends with us!

= Keynote