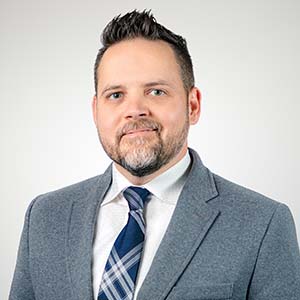 Jason Boal
Certified Planner (AICP) and Certified Floodplain Manager (CFM)
Snell & Wilmer
Jason Boal is a Certified Planner (AICP) and Certified Floodplain Manager (CFM) in the Salt Lake City offices of the law firm Snell & Wilmer. Previously, he was the Deputy Director of Development Services for Ada County, Idaho. Prior to that, he was the Planning & Building Director in Teton County, Idaho and Victor City, Idaho. He also worked as a Planner in Latah County, Idaho and Heber City, Utah, after getting his start in the planning profession with Epic Engineering P.C. in Heber City, Utah. Jason taught land use courses as an adjunct professor at both Boise State University and the University of Idaho. He has served in several positions of leadership for APA Idaho, most recently he was the Legislative Committee Chair. Jason received a Bachelor of Science in Geographic Information Systems from Brigham Young University and a Master of Science in Bioregional Planning and Community Design from the University of Idaho. In his spare time Jason enjoys traveling with his family, backpacking, fishing, camping, playing hockey as well as restoring/building cars and motorcycles.
Session(s):
2022 Fall Conference, September 9, 2022 2:30 pm
Is your community using all the tools available to finance public infrastructure? We invite you to come and listen to those who have experience creating, using and managing Public Infrastructure Districts. This session will provide valuable insight into why some communities find PID's vital to their growth as a community, what are the hurdles in creating PID's and what are the resources available to educate your elected officials and community members about this tool. Perspectives from local communities, the finance industry and development industry will be share in the robust review and conversation about PID's.
2022 Fall Conference, September 8, 2022 3:30 pm
Robert A. Heinlein, an American science fiction author, aeronautical engineer, and naval officer is credited with saying - "A human being should be able to change a diaper, plan an invasion, butcher a hog, design a building, conn a ship, write a sonnet, balance accounts, build a wall, set a bone, comfort the dying, take orders, give orders, cooperate, act alone, solve an equation, analyze a new problem, pitch manure, program a computer, cook a tasty meal, fight efficiently, die gallantly. Specialization is for insects." Does this same approach hold true in the Planning profession? In this session we will discuss the skills Planners possess and how they can position themselves for success in a such a diverse profession.
2022 Fall Conference, September 8, 2022 2:30 pm
There is no shortage of controversy in Utah's land use realm. Often a single action by a landowner, developer or community can snowball into legislation that impacts the state. It is vital to understand what legal and legislative issues are currently of concern and what solutions are being considered. This is intended to provide a forum to discuss the hot button issues that appear to be rising to the top in preparation for the 2023 Utah legislative session. The APA UT – Legislative Committee will present what they are hearing in regard to – 1) Design Standards, 2) Temporary Ordinances (moratoriums), 3) Development Agreements, 4) Referendum's and 5) Short-term rentals, as well as provide opportunity for discussion on other legislative topics.

= Keynote