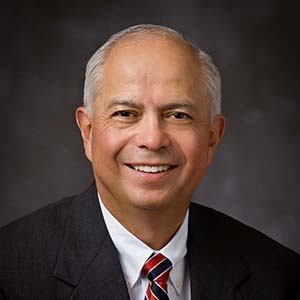 Larry Echohawk
Special counsel and advisor to the Governor and to the Attorney General of the State of Utah for Indian affairs

Larry J. Echo Hawk was born in Cody, Wyoming, and raised in Farmington, New Mexico. He earned a football scholarship to Brigham Young University and was the starting defensive safety in every game during his junior and senior seasons. After graduating from BYU in 1970, he earned a Juris Doctor Degree at the University of Utah in 1973. In 1977, he was hired as the senior attorney for the largest Indian tribe in the State of Idaho, the Shoshone Bannock Tribes, located on the Fort Hall Indian Reservation. He served in that capacity for more than eight years. In 1982, in his first try for public office, Larry was elected to the Idaho House of Representatives. He served two terms before becoming the elected Prosecuting Attorney for Bannock County. In November of 1990, Larry was elected as attorney general for the State of Idaho and became the first American Indian in U.S. history elected as a state attorney general. After 12 years in elective office in Idaho, he served for 15 years as a professor of law at Brigham Young University's J. Reuben Clark Law School, teaching Criminal Law, Evidence, Criminal Procedure, Criminal Trial Practice, and Federal Indian Law. In 2009 he was nominated by President Barack Obama, and confirmed by the United States Senate, to serve as the assistant secretary for Indian affairs in the United States Department of the Interior, the highest-ranking official in the federal government with exclusive responsibility for Indian affairs. In this capacity, he served as the representative of the President of the United States to 565 tribal governments. He presently serves as special counsel and advisor to the Governor and to the Attorney General of the State of Utah for Indian affairs. Larry Echo Hawk is a member of the Pawnee Nation of Oklahoma and served honorably in the U.S. Marine Corps. He and his wife, Terry, have six children, thirty grandchildren, and four great-grandchildren.
Session(s):
2023 Spring Conference, May 11, 2023 3:50 pm
Many communities in Utah have tribal lands located near or within their jurisdictional boundaries. Tribes are sovereign nations and establishing a government-to-government relationship is essential to promoting coordination, cooperation and equity during the land use planning process. Session attendees will learn from experts how to facilitate this cooperation as we manage community development.

= Keynote