UTAH COUNTY PLANNER TRAINING AND BIKE TOUR
The tour will be a bike tour and we have access to a few EXTRA bikes. HOWEVER, if you can bring your own that will be helpful.
Please RSVP to mflorence@lindoncity.org if you need a bike.
YOU CAN USE A CAR IF YOU PREFER NOT TO RIDE A BIKE
COME HEAR ABOUT THE GREAT THINGS HAPPENING IN VINEYARD CITY
Learn about Vineyard's Forge @ Geneva and Vineyard downtown projects
MEET AT VINEYARD CITY HALL 125 S. MAIN STREET VINEYARD JULY 16, 2020 9:00 A.M.
COME GET TO KNOW OTHER UTAH COUNTY PLANNERS
CM CREDITS AVAILABLE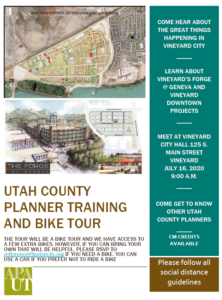 Venue:

VINEYARD CITY HALL
Address:
125 S. MAIN STREET
,
Vineyard
,
Utah
,
84059
,
United States
Description:

Vineyard City Hall
125 S. Main Street
Vineyard
UTAH COUNTY PLANNER TRAINING AND BIKE TOUR


July 16, 2020




9:00 am - 12:00 pm

UTAH COUNTY PLANNER TRAINING AND BIKE TOUR


July 16, 2020




9:00 am - 12:00 pm