THE UTAH LAND USE INSTITUTE 2021 LAND USE CONFERENCE
Fall Conference – October 26-27, 2021
AICP CM Event #9220738
Some Sessions May Be Online via Zoom Conferencing
(check back at this page for confirmation)
Conference Panelists – Background Information
Conference Materials
Tuesday, October 26
1:30 p.m. to 4:45 p.m. – Fifteen Years of Ombudsman Advisory Opinions and a General Discussion of Utah Land Use Law Topics.  Speakers will include Brent Bateman, Jordan Cullimore, Craig Call and others who will respond to questions about Utah land use law and the evolving role of the Ombudsman.  A review of past advisory opinions, including a complete database of topics, will be provided.
Wednesday, October 27
8:25 a.m. to 12:00 p.m. – Plenary Session – Regional Development Authorities and Utah Planning Practice – The changing relationship between the legislature, local government and property owners/developers.  Senator Jerry Stevenson, Mayor Erin Mendenhall, Prof. Arthur C. (Chris) Nelson, MIDA director Paul Morris and The Point manager Alan Matheson will join others in the conversation.
Noon – 1:15 p.m. – Luncheon speaker Mary Kay Peck, former President of the American Planning Association will discuss land use ethics and professionalism, with a focus on ensuring fairness and equity as we lead our communities.
1:30 – 4:50 – one hour breakout sessions: times to be arranged.
The Legislature and Housing Affordability – What's Being Planned for 2022 and Beyond?
Bargaining for Development – is Seeking Trade-Offs for Density Now the Norm?
Pandemic Long-term – What Has Changed in How We Deal with Land Use Issues?
The Role of the Planning Commission – Time to Rethink or at Least Reboot?
Design and Construction Solutions for Housing Affordability
Shall We Zoom?  Innovative Methods to Engage the Public and What We Learned from the Pandemic.
Continuing Education Credit for our Fall Conference will be sought for Attorneys, Planners, and other professions.   These sessions qualify for the minimum four-hour training that planning commission members must complete under the new requirements in the Utah land use code.
Register Now! We appreciate your participation and support.  You can sign up for one session or all five at one time – HERE
Questions? Email info@utahlanduse.org or call 801-859-2255.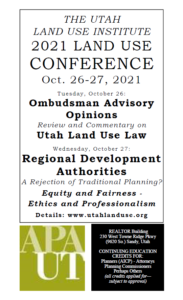 Venue:

REALTOR Building
Address:
230 West Towne Ridge Pkwy
,
Sandy
,
Utah
Description:

230 West Towne Ridge Pkwy
(9620 S.) Sandy UT
THE UTAH LAND USE INSTITUTE 2021 LAND USE CONFERENCE


October 26, 2021 - October 27, 2021




1:30 pm - 5:00 pm

THE UTAH LAND USE INSTITUTE 2021 LAND USE CONFERENCE


October 26, 2021 - October 27, 2021




8:00 am - 5:00 pm
We're sorry, but all tickets sales have ended because the event is expired.