Safer Buildings, Stronger Communities: A Road Map to Action for Earthquake Country
WHAT:  Safer Buildings, Stronger Communities: A Road Map to Action for Earthquake Country
A 90-minute webinar presenting the Wasatch Front Unreinforced Masonry Risk Reduction Strategy
Join this free online event to find out more about the hazard posed by seismically dangerous buildings and how your community can use this strategy to address the problem.
WHEN:  July 21, 2021, at 2:00 MT / 1:00 PT
Hosted by: CREW, with funding from the National Earthquake Hazards Reduction Program
Panelists:
Audrey Pierce, Moderator: Critical Infrastructure Liaison at Salt Lake City Emergency Management and Program Manager of the Fix the Bricks Program.
Divya Chandrasekhar: Associate Professor in the Department of City & Metropolitan Planning at the University of Utah.
Jessica Chappell: Structural engineer and principal with Reaveley Engineers; SEAU Delegate and Vice-Chair of the Utah Seismic Safety Commission.
John Crofts: Earthquake Program Manager for the Utah Division of Emergency Management.
Sean McGowan: Earthquake Program Manager for FEMA Region 8.
Safer Buildings, Stronger Communities: A Road Map to Action for Earthquake Country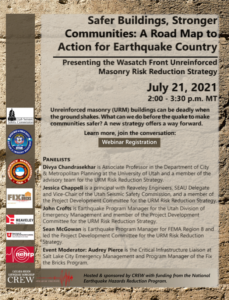 Safer Buildings, Stronger Communities: A Road Map to Action for Earthquake Country


July 21, 2021




2:00 pm - 5:00 pm

Safer Buildings, Stronger Communities: A Road Map to Action for Earthquake Country


July 21, 2021




2:00 pm - 5:00 pm