Constellation Tour and Star Party hosted by members of Kanab's nonprofit Stellar Vista Observatory
For a memorable experience of southern Utah's starry nights, join the nonprofit Stellar Vista Observatory on a tour of the constellations, planets, star clusters, and nebulae visible in the spring sky. The natural darkness of rural southern Utah makes possible an enriching study of our place in the Cosmos. Learn more about SVO's plans to build an educational astronomical observatory in or near the City of Kanab for public enjoyment of the night sky. www.stellarvistaobservatory.org.
DIRECTIONS FROM KANAB TO SVO'S "ZION VIEW" STAR FIELD
SVO's "Zion View" star field is located on BLM land at the west end of old Hwy. 89, 13 miles north of Kanab, near the 6100-foot summit and Diana's Throne. The site is at the opposite end of a six-mile improved dirt road from BLM's Peekaboo Trailhead. You'll see the Peekaboo sign posted on Hwy 89 just north of the upper entrance to Best Friends Animal Sanctuary and the intersection of Hancock Road and US 89. (The aforementioned improved dirt road is the old Hwy. 89 running parallel to the paved highway)
Traveling on US 89 North from Kanab, look for a small sign marking the "6100 Foot Summit", the high point between Kanab and Mt. Carmel Jct. Proceed one tenth mile or so and make the next right turn onto a hard packed dirt road that crosses a cattle guard and leads to the star field location, also in less than a tenth mile. When you see the 6100 Summit sign, start to slow down, use your turning signal and look for a narrow road on your right. If you start down the grade toward Mt. Carmel Junction on the highway, you missed the turn. The site affords a wonderfully dark location for sky watching!
An alternative way to get there is to turn off US Hwy 89 at Peekaboo Trailhead, and follow the dirt road for six miles up and over the grade to its opposite end. When you reach the star field, drive slowly to avoid creating dust.
(Approximate coordinates: 37.181212, -112.636858)
Map from BLM – Star Field area at Diana's Throne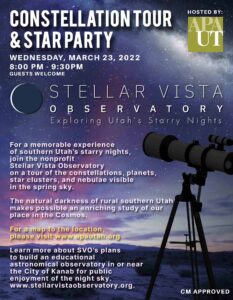 Constellation Tour and Star Party hosted by members of Kanab's nonprofit Stellar Vista Observatory


March 23, 2022




8:00 pm - 9:00 pm

Constellation Tour and Star Party hosted by members of Kanab's nonprofit Stellar Vista Observatory


March 23, 2022




8:00 pm - 9:00 pm