Missing Middle Housing: A Regional Solutions Event
AICP CM Event # 9220736
The Regional Solutions: Missing Middle Housing Event will be held Thursday, Oct. 7, 2021 from 11 a.m. – 3 p.m. at the Viridian Event Center in West Jordan.
 Early registration is open now through Sept. 24 at https://missingmiddle.eventbrite.com.
The cost of housing is one of our biggest challenges facing current and future generations. Join us in learning about one new method Utah could deploy to create both attainable and affordable housing for Utah's families and individuals.
What's Missing Middle Housing? Register for this Oct. 7 Regional Solutions Event to learn about a different way to think big about the housing problem in Utah.
Hardworking Utahns should be able to find and buy attainable, quality housing. Retired first responders. Young and growing families. Teachers. Business professionals. But many are getting priced out. Missing middle housing may be one of the solutions. #RegionalSolutions
A neighborhood approach might just be one of the solutions Utah needs in our housing crisis. If you're invested in finding solutions to housing affordability in your community, learn about Missing Middle Housing from architect and author Daniel Parolek on Oct. 7, 2021. Register at https://missingmiddle.eventbrite.com.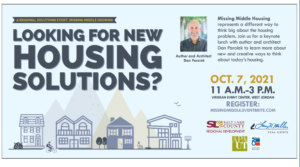 Venue:

Viridian Event Center
Venue Phone: 801.948.7858
Venue Website: https://www.slcolibrary.org/locations/viridian
Address:
8030 South 1825 West
,
West Jordan
,
Utah
,
84088
,
United States
Description:

The Viridian Event Center is centrally located in the Salt Lake Valley just off Redwood Road with easy access from I-15, the I-215 belt-route or Bangerter Highway to the west. UTA also has convenient bus and trax stops just 5-6 minutes away on foot (0.3 miles).
Directions From Redwood Road
From Redwood Road, turn west onto 8020 South (Rosa Parks Dr.) between West Jordan City Hall and the West Jordan Justice Center.
Continue straight (west) through the roundabout then turn left (south) onto 1825 West.
The parking lot will be on your right, south of the building.
*Limited parking is also available at Veterans Memorial Park north of the building, just be aware of the one-way road around the park.
By UTA Bus or Trax Train
West Jordan City Center station on the Red Trax Line 703
West Jordan City Center station on Bus Route 217 Redwood Road or 218 Sandy/South Jordan
Directions From West Jordan City Center Station:
Cross Redwood Road at the crosswalk/light headed west.
Continue straight (west) through the roundabout and across 1825 West.
The building and north lobby entrance will be on your left.
Missing Middle Housing Event


October 7, 2021 - October 8, 2021




11:00 am - 3:00 pm

Missing Middle Housing Event


October 7, 2021 - October 8, 2021




11:00 am - 3:00 pm