Western Planner CALL FOR SESSIONS
March 23, 2021 by admin
Policy/Legislative
We are now accepting proposals for presentations at the 2021 Western StatesPlanning Conference to be held IN-PERSONAugust 22-25, 2021 in Paradise Valley, Arizona. This conference will be our most diverse ever as we break our professional boundaries and build new connections through this year's partnership between APA Arizona with its network of 2,800planners and The Western Planner with connections across 12 western states!
We need you to make this a successful conference and we are calling for multiple disciples to submit sessions. Diverse teams from multiple states are encouraged, as well as panelists with varying backgrounds, values, and vision. Consider collaborating with similar
agencies in other western states to broaden your session and bring a different viewpoint into a panel discussion. Creative means for group interaction are welcome. Any topic in the realm of land use, equity, transportation, community design, environmental stewardship, tribal planning, planning law, ethics, and economic development are welcome.
With the conference theme of "BreakingBoundaries, Creating Connections" and the five(5) conference tracks, highlighted below, there are plenty of opportunities for YOU to submit creative session proposals on a wide range of topics and from multiple disciplines – so consider submitting a session idea today!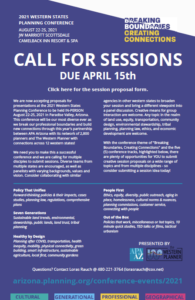 DUE APRIL 15th
Click here for the session proposal form.