The Great Rebalance 
May 7, 2022 by admin
Policy/Legislative
The Great Rebalance
Brant Birkeland, Manager of Business Recruitment and Relationships, Ogden City
The post-war suburban experience brought unique changes to the development pattern and built environment of communities and neighborhoods across the country. Traditional neighborhoods surrounding a downtown core were replaced by large-scale single-family subdivisions and sweeping expanses of retail development, which often took the form of strip malls, indoor malls, and big box development.
Decades of the post-war development pattern resulted in a general oversupply of retail in the United States. Fast Company cited a 2020 analysis by global consultancy PwC which found the U.S. had by far the most retail square foot per person of any country in the world[1]. At 23 SF per person, the U.S. greatly exceeds European countries, with averages around five SF per person. We are also outpacing countries with similar development patterns, including of our friendly neighbors to the north, with 16 SF per person, and the good folks down under with around 11 SF per person.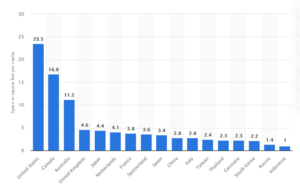 Source: Statista 2022
As we transition from the post-War development pattern to something different (maybe the post-Covid development pattern?) can we expect to see anything different?
Early data suggests we will. In Ogden City, where I work, we have begun to see large sections of vacant or underutilized retail take on new life. Vacant big box stores have been transformed to new uses such as medical device research and development, light manufacturing, and mixed-use developments. Other communities have seen vacant retail transition to everything from storage centers to data centers, gyms, and churches.
A recent analysis of residential development projects in Ogden showed 60% of residential dwelling units reviewed, approved, or constructed in 2020 and 2021 were located in the City's C2 or C3 Commercial Zone District's (the City allows multi-family residential, by right, in commercial zones less than four acres, and mixed-use development, by right, on commercial zones greater than four acres). A clear sign, among many, of the increasing demand for infill residential development and decreasing demand for large format retail.
This is not to say it is all doom and gloom for commercial development. In fact, what is more likely the case, based on early evidence, is we are seeing a shift to quality over quantity when it comes to retail development. Going back to Ogden, an underperforming big box retailer was recently replaced by a regionally owned Asian supermarket. The new supermarket not only adds to the quality and diversity of offerings in the community, but also offers jobs that pay above industry average and provide a full benefit package. This is just one of many similar stories in the community.
We've experienced a few "the great [_____]" over the past decade and a half. From the great recession to the great resignation, these labels indicate a noticeable shift or disruption in society. Is it possible we're experiencing the great rebalance when it comes to land uses in communities across the U.S. and in Utah? As demand for housing of all forms spikes and demand for retail shrinks, will communities rebalance how land is allocated in communities? Will a general shift from quantity to quality prevail? What does this mean for planners, developers, policy makers, and elected officials? What does this mean for fiscal policy and municipal budgets? The next few years will give us more data, but early indications suggest this is at least a trend to pay attention to, if not a full on rebalance.
[1] https://www.fastcompany.com/90573407/many-u-s-stores-will-close-forever-thats-a-good-thing