Paul Allred: Career Reflections & Valuable Advice (Part 2)
November 3, 2021 by admin
Policy/Legislative
 This is the second of three articles published by APA Utah in November 2021 on the career and advice from our colleague, Paul Allred, who recently retired as Community Development Director for Holladay, Utah, following a successful 32-year career as a civil servant in Utah.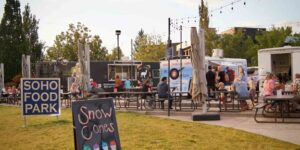 What were your greatest successes? Or positive experiences? (continued from part 1)
Holladay was a very rewarding personal and professional experience. It was a place where my professional and personal goals as a planner were well matched with my employer. Holladay had only incorporated a few years before my arrival, and the city was still figuring out what they wanted to be—other than under the control of Salt Lake County. My position had undergone a lot of churning—I was the fourth Community Development Director in just over 5 years. Luckily, I inherited excellent staff planners, Pat Hanson and Alma Haskell, and the elected officials were not only open to ideas on how to revitalize the community—which was frankly losing its sense of place—but had already done some land use visioning studies and included encouraging language in the General Plan about redeveloping the traditional downtown area and the flagging Cottonwood Mall. Over the next several years, very wise long-term decisions and investments were made in the downtown area by the City Council and Redevelopment Agency (RDA) which eventually allowed for the development of Holladay Village. It took a great deal of patience and a bit of suffering by everyone before the Village area could commence.
At the very same time (2006-2007) that the Cottonwood Mall (CM) was struggling, newer, larger, more conveniently located development was occurring around the valley (i.e., Fashion Place, Jordan Landing, City Creek, etc.). Many former patrons of the CM now fled to other destinations to make their purchases. In response, the city created an RDA for the site and worked with General Growth Properties (GGP), the owner of the CM property, to develop a new plan for the site. This comprehensive, visionary plan, which was prepared by some of the best architects, planners, and engineers in the country, was approved in late 2007. However, in early 2008, the "Great Recession" happened, which put both the Mall site and the Village on hold as everyone hunkered down in hopes it would end quickly—which, as we know, it didn't. The Mall was mostly demolished in 2008 with hopes that a developer would be attracted to the site. Over the ensuing years, the most frequent and endlessly asked question of city leaders and the staff was, "So when is something going to happen at the Mall"?
In the meantime, the Village began to take shape with the construction of the first buildings and the city-owned plaza at the corner of Holladay Boulevard and Murray Holladay Road. Soon after, other developers came to build both commercial and residential uses. Within a short period, the Village provided the residents a new sense of pride and excitement. As a result, about thirty organizations have toured the Village area to inspect and inquire how it was accomplished. For me personally, this was the realization of many years of very difficult work.
After a proposed re-working of the CM site master plan by local developers was approved by Holladay in 2018, a referendum challenging the legislative approval was placed on the November 2018 ballot. The vote was strongly in favor of overturning the revised plan. Not long after, a new development team came forward, bought the site, and moved forward with phasing approvals based on the original site master plan. Construction is now well underway on the property, and the community generally seems pleased that development is finally moving forward after so many years of looking at 57 acres of nothing but weeds and dust. Being involved with the redevelopment of the CM site was unbelievably challenging, and in the end, equally rewarding.
Preliminary image from the first development phase of the former Cottonwood Mall site in Holladay, Utah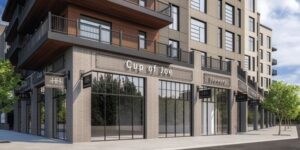 What were your greatest challenges? Or difficult experiences?
Like everyone else, I have experienced numerous challenges, but here are a few of the most difficult:
Being fired from my job in 2002 was brutal. I had worked like a madman for my employer for almost a decade and was fired "without cause"—which really hurt. I was out of work for an extended period which took a real toll on my family and me. I lost confidence in myself and was not sure that I'd be able to re-enter public service, which I finally did almost two years later. (Thanks, Wilf Sommerkorn!)
I spent way too much time at work and not enough with my family over the years. Politically appointed, high-pressure, "at-will" positions, which I held for more than 25 years, created a sense of obligation to "be all things to all people," which created negative health consequences for me. Additionally, the highly emotional and controversial nature of land-use decisions at the local level often left me feeling like I was "public enemy number one" with the residents and sometimes even with the Planning Commission and City Council, too.
Frustration and Disillusionment. The satisfaction—and even joy—of being a city planner and public servant has always been a bedrock of my professional and personal life. Over the years—especially the last six or seven—I became weary of meetings where intense public outcry resulted in critical, or even fairly routine decisions, being "kicked down the road" for a future group to tackle. (Not to mention the disregard for the unseen and unappreciated labor of preparing applications and reports for consideration.) As these decisions piled up, I realized that without a "sense of urgency" by the general public and those with decision-making power, my ability to be an effective voice in land use planning was becoming severely hampered.
The above article is the second of three to be published by APA Utah on www.apautah.org.
Paul Allred
pablo.todorojo@gmail.com