Owned: A Tale of Two Americas
February 4, 2022 by Nicole Mason
Policy/Legislative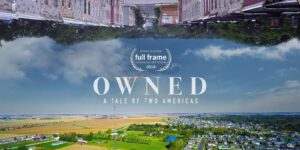 A documentary film on KUER Channel 7 on February 8th at 11:00 PM
The following was originally published in "Seven"—a monthly program guide for KUER—and appears courtesy of PBS Utah.
From Emmy Award-winning filmmaker Giorgio Angelini comes Owned: A Tale of Two Americas, which weaves together the history of mid-century housing policy in America and the ramifications of the 2008 housing market collapse. Presented by "Independent Lens," Owned: A Tale of Two Americas premieres Tuesday, February 8 at 11:00 PM on PBS Utah in recognition of Black History Month.
In an effort to bolster both housing supply and a sluggish post-World War II economy, the U.S. government undertook the most sweeping wealth redistribution project in history, subsidizing homeownership and assisting an emerging middle class in the middle of the 20th century. But ingrained in the government's postwar housing policies were more calculated efforts to support a white middle class, leading America toward two very stark realities: one of homeownership, wealth, and The American Dream, and another of defunded and purposefully segregated communities;
 Owned takes the audience on a journey to contrasting neighborhoods in Baltimore, Maryland; Levittown, New York; and Southern California. The documentary follows residents, realtors, and developers as they share their stories of living and working In their respective urban communities. What emerges is the suburban picture of deeply unsustainable housing policies—exemplified In the 2008 housing market collapse—alongside an ongoing state of highly neglected urban neighborhoods characterized by dangerous living conditions and pockets of concentrated poverty.
The crash of suburbia and urban unrest are not unrelated phenomena. They are a result of the United States' racist housing policies, which have created vulnerable subcultures In our build environments. Throughout the film, It becomes clear that society cannot continue In a segregated state. Ultimately, the contrasting communities created by the country's housing history may have more In common with each other than they expect.
"We all remember the severity of the 2008 housing crisis and its impact on millions of families," said director Giorgio Angelini. "What is often overlooked, though, is how the central struggles that America faces right now—from racial equity, education, policing, to climate change—often find their roots in bad housing policy that promised a lot, but ended up serving very few. And as housing has turned, essentially, into a globally traded commodity, it has only served to exacerbate these problems innate to the system. With home prices rising like crazy, and people making less than they did 20 or 30 years ago, we have to ask ourselves, what is the purpose of homeownership In a society? And Is the current system actually meeting those needs?"
The documentary features Interviews with Nikole Hannah-Jones, leader of The New York Times' "The 1619 Project;" Richard Rothstein, author of The Color of Law; and Yale economics professor Robert J. Shiller.