Lehi Connectivity Standards – A Stronger Urban Fabric
January 22, 2021 by Nicole Mason
Policy/Legislative
In an era of urban expansion designed for the car, Lehi experienced rapid growth in the 90's with numerous low-density neighborhoods featuring many cul-de-sacs and dead ends. This was the start to Lehi's urban fabric. Streets are the threads that hold the fabric together and much of what was initially built was disconnected and frayed. The network of roads, paths, and sidewalks are the basis and foundation of a city and can often survive longer than the development that is initially built around them.
Lehi's initial network of disconnected local streets was intended to create quiet family-friendly neighborhoods and has been a standard practice in suburban areas of the U.S. for some time. However, good intentions can have unintended consequences, some of which have been found in the case of poor street connectivity. Disconnected streets are a considerable factor in pushing people into cars and increasing auto dependency. When cars are concentrated onto collector and arterial roads, those busy roads themselves can create additional barriers to alternative modes of transportation, and even more local trips are forced onto regional facilities, thus further increasing auto dependency.
Cars are not the root of all evil, they do provide a modern element of mobility like none we have had in history. However, there is a balance that we should aspire to achieve in creating healthier, safer, and more livable communities. In Lehi, we wanted to take the first step to help break the cycle of auto dependency and promote alternative modes of transportation through a more interconnected street network. Decreasing required trip lengths and providing routes along low-traffic streets encourages more walking and biking. One of our primary goals is to remove local trips from regional roadways and utilize local networks to reduce the need for unnecessary roadway widening in the future.
After a couple years of research, debate, and drafting an ordinance, the Lehi street connectivity standards were adopted in 2016. Shortly after the adoption of our standards, Lehi was included as a case study in the Utah Street Connectivity Guide sponsored by the Wasatch Front Regional Council, Mountainland Association of Governments, UDOT, and UTA. At the time the guide was released, Lehi did not have any subdivisions constructed according to the standards, and only time would tell how the implementation and overall street network would form according to the standards.
Lehi's initial standards included a few basic metrics such as required connectivity indices and maximum block lengths that vary according to housing density. Initially there was push back from the development community and resistance from residents when a stub road from an existing neighborhood was required to be connected through. Interestingly, we found that some opponents to a street connection during the development approval process later expressed their liking of the increased accessibility after the street connection was installed. Several subdivisions have been constructed according to the standards, and below are examples of an area prior to the adoption of the standards and an area after the implementation of the standards: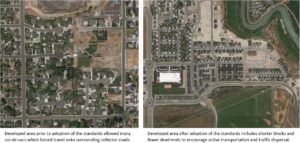 Since the initial adoption in 2016, we have made updates and revisions to the standards to include new requirements for superblock connectivity, non-residential developments, and pedestrian connectivity. We have learned more about connectivity over the years and how to improve it as many new developments have since been constructed according to the standards. We also acknowledge many other benefits of increased street connectivity including increased emergency and delivery access, better opportunities for social interactions, efficient snow plowing, and better utility access.
While Lehi may not be a model example of compact walkable development just yet, the city has taken one of the first critical steps in a direction towards a more multi-modal and livable city. The increased connectivity in the city provides a more resilient and interwoven urban fabric that can provide future opportunities as the region grows and densifies.
Mike West, Lehi Planning Division Manager
mewest@lehi-ut.gov