Funding Programs Announcement
September 23, 2020 by admin
Economic Development, Land Use, Urban Planning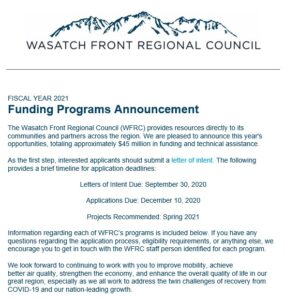 FISCAL YEAR 2021
Funding Programs Announcement
The Wasatch Front Regional Council (WFRC) provides resources directly to its communities and partners across the region. We are pleased to announce this year's opportunities, totaling approximately $45 million in funding and technical assistance.
As the first step, interested applicants should submit a letter of intent. The following provides a brief timeline for application deadlines:
Letters of Intent Due: September 30, 2020
Applications Due: December 10, 2020
Projects Recommended: Spring 2021
Information regarding each of WFRC's programs is included below. If you have any questions regarding the application process, eligibility requirements, or anything else, we encourage you to get in touch with the WFRC staff person identified for each program.
We look forward to continuing to work with you to improve mobility, achieve better air quality, strengthen the economy, and enhance the overall quality of life in our great region, especially as we all work to address the twin challenges of recovery from COVID-19 and our nation-leading growth.
Thank you,
Andrew S. Gruber
Executive Director, Wasatch Front Regional Council, Utah
801-824-0055
www.wfrc.org