SAVE THE DATE – Western Planner Conference 2021
We are excited about what's coming up next year:
First, we are excited for our 2021 Western States Planning Conference to be held in partnership with the Arizona APA, and supported by multiple western state organizations. The conference will be held at the JW Marriot Camelback Inn Resort & Spa in Scottsdale,Arizona on August 22-25. The conference theme is "Breaking Boundaries, Creating Connections." Now more than ever, our profession needs to break the boundaries of our "professional silos" with disruptive and innovative ways to address modern challenges, creative and authentic engagement, and real human connection that will ultimately improve our communities.
Second, we're excited to see the progress of the Tribal and Indigenous Planning Interest Group as they seek to re-establish the Tribal and Indigenous Division of the American Planning Association. The Western Planner continues to support this initiative and multiple WPR board members have been active in organizing the effort. Tribal nations are foundational to the fabric of the West. Coming together in support and recognition of tribal planning is the way forward for the West.
Third, in our continuing efforts to support planners across the West, we are launching video and podcast content. As a teaser, we've included an interview with Stan Steadman, founder of the Western Planner. These new formats will join our Western Planner Journal and Jobs Newsletter—helping to be the catalyst for all planners in the West to be connected, supported and empowered. 
Help us to make these plans a reality. There's still time to donate—please consider contributing today. The Western Planner depends on and is supported through tax-exempt donations. Thank you and have a Happy New Year!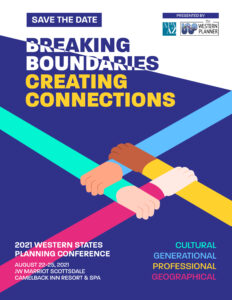 Western Planner Conference


August 1, 2021 - September 1, 2021




8:00 am - 6:00 pm

Western Planner Conference


August 1, 2021 - September 1, 2021




8:00 am - 6:00 pm