Right of Way – A conversation about pedestrian safety with Angie Schmitt
BikeWalk Provo, along with UDOT's Move Utah, BYU Geography, BYU Civil and Environmental Engineering, and American Planning Association's Utah Chapter is pleased to host a conversation with writer and safe streets expert Angie Schmitt via Zoom on October 29 at 4pm.
Angie will give a 30-minute presentation focusing on the ideas expressed in her new book, Right of Way: Race, Class, and the Silent Epidemic of Pedestrian Deaths in America. She will then take questions from participants.
This webinar will be of interest to transportation engineers, urban planners and designers, safe streets activists, and public policymakers. APA members will receive CM credit for participating. Please register and buy Angie's book today!
Zoom Link: https://zoom.us/webinar/register/WN_IC9dY5RnTXeClSl7GJwX7w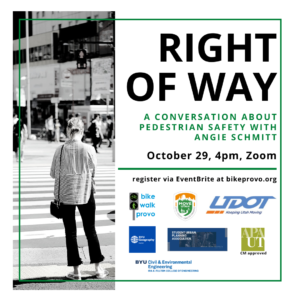 Right of Way - A conversation about pedestrian safety with Angie Schmitt


October 29, 2020




4:00 pm - 5:00 pm

Right of Way - A conversation about pedestrian safety with Angie Schmitt


October 29, 2020




4:00 pm - 5:00 pm