Equity in Planning Departments and Academia (CM approved)
Voices in a volunteer led panel discussion that provides an opportunity for a diverse array of planning leaders in the Washington, DC Metropolitan area and beyond.  This year's panel will expand the geographic reach of our dicussion and include Voices from Massachusetts, Maryland and Utah.  The panel will explore how to increase the diversity of Voices within local planning agencies and academia.
REGISTRATION INFORMATION COMING SOON
SPEAKERS
Ivis Garcia, AICP
Confirmed Speaker
Ivis Garcia is originally from Puerto Rico, Dr. Garcia is an urban planner with a long history of working with and for low-income communities throughout the nation including Albuquerque, New Mexico, the San Francisco bay Area, Washington, D.C. and Chicago. Ivis is currently a professor at the University of Utah.
Monica Tibbits-Nutt, AICP
Confirmed Speaker
Monica G. Tibbits-Nutt, AICP, LEED AP BD+C is the Executive Director of the 128 Business Council. Monica also serves on the Massachusetts Department of Transportation (MassDOT) Board of Directors and is the Vice-Chair of the Fiscal Management and Control Board that currently oversees the MBTA.
Tonya Sanders, AICP
Confirmed Speaker
Tonya Nashay Sanders, PhD, is an Associate Professor in City and Regional Planning at Morgan State University. Her research examines community revitalization through the venue of faith-based organizations. Presently, her research examines how faith-based organizations can engage in community and economic development through cross-sector partnerships. Dr. Sanders has significant experience.
Brittney Drakeford
Confirmed Speaker
Drakeford is currently a RWJF Culture of Health Leader; a PhD Student in the University of Maryland's Urban and Regional Design Program; and a Senior Planner with the Prince George's County Planning Department. She has significant experience in community-based organizing and training in equity, diversity, and inclusion.
Hazel Edwards, FAICP
https://www.planning.org/events/eventsingle/9213706/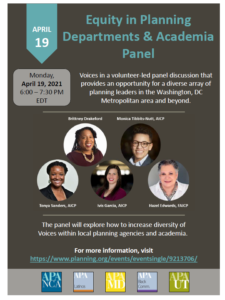 #9213706
CONTACT INFO
Marc Lewis-Degrace, marc.lewisdegrace@gmail.com
Equity in Planning Departments and Academia


April 19, 2021 - April 28, 2021




4:00 pm - 5:00 pm