APAUT Book Discussion: Evicted by Matthew Desmond
January 27, 2022 by Nicole Mason
Policy/Legislative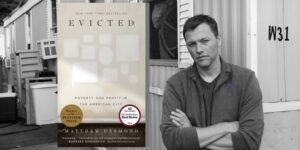 by Michael Maloy, AICP
APA Utah has selected Evicted: Poverty and Profit in the American City by Matthew Desmond for our next Chapter Book Discussion. APA Utah will host three separate book discussions on Evicted in March to accommodate members throughout Utah, including an afternoon session at the upcoming Spring Conference in Kanab, Utah (March 23-25, 2022). Online and "in-person" sessions will also be announced soon (dates, times, and location to be determined).
For those unfamiliar with this Winner of the Pulitzer Prize for Non-Fiction in 2017, Broadway Books described it as follows:
"In Evicted, Princeton sociologist and MacArthur "Genius" Matthew Desmond follows eight families in Milwaukee as they each struggle to keep a roof over their heads. Hailed as "wrenching and revelatory" (The Nation), "vivid and unsettling" (New York Review of Books), Evicted transforms our understanding of poverty and economic exploitation while providing fresh ideas for solving one of twenty-first-century America's most devastating problems. Its unforgettable scenes of hope and loss remind us of the centrality of home, without which nothing else is possible."
As could be imagined, critics have widely praised Desmond's work, such as:
"Astonishing… Desmond has set a new standard for reporting on poverty."—Barbara Ehrenreich, New York Times Book Review
"Written with the vividness of a novel, [Evicted] offers a dark mirror of middle-class America's obsession with real estate, laying bare the workings of the low end of the market, where evictions have become just another part of an often lucrative business model."—Jennifer Schuessler, New York Times
"In spare and penetrating prose . . . Desmond has made it impossible to consider poverty without grappling with the role of housing. This pick [as best book of 2016] was not close."—Carlos Lozada, Washington Post
Personally, it has been 18 months since my first reading of Evicted, and the lessons learned are still fresh in my mind—and my heart—and my admiration for Matthew Desmond and his powerful work remains strong. Trust me, this is a "not to be missed" read, and we encourage all planners to thoughtfully read this critical work on poverty and housing in America today. For more information about the book, please visit https://www.evictedbook.com/, which contains many additional resources on this topic.
And one more thing; members may email their name and mailing address to mmaloy@herriman.org to enter a drawing for one of two free copies of the book. Entries must be received by 5PM, FRIDAY, FEB 4, 2022, and winners will be randomly selected. Good luck and enjoy the reading!