What to do when your small town is overrun by the rich
January 30, 2021 by admin
Policy/Legislative
By Sofia Jeremias, Deseret News
In Jackson Hole, Wyoming, there's a look old-timers exchange when a newcomer, decked out in brand new cowboy boots and blinged out jeans, walks in.
"You know, the look women sometimes give each other when a man is talking," Claire Fuller, a lifelong Jackson resident, says.
The newcomers, "the Californians buying brand new everything," have descended on Jackson, and the pandemic has only accelerated the urban flight from those too-darn-expensive coastal cities to the vista rich, once quiet, interior West.
Jackson Hole is one of the hottest spots for those with wealth and a penchant for wild lands, ski slopes and tax havens (Wyoming has no state income tax). From January through September, over $1.5 billion in real estate sales were recorded in 2020, a record-shattering number, the Jackson Hole News reported. 
The Mountain West real estate market is hot. So hot, that a whole new term manifested to describe the movement of footloose workers to small towns. "Zoom towns," remote-ish places with easy access to the mountains, ski slopes or red rock deserts, and a Wi-Fi connection have seen their rental markets go up, up, up.
In a recent piece on the "Zoom Boom," High Country News reported that homes in Flagstaff, Arizona, are now selling for nearly half a million dollars, and in Truckee, California, more than 500 homes were sold for over a million bucks.
But while the term "Zoom town" may be new, many of the trends it embodies are not.
In a study published in the Journal of American Planning Association, researchers looked at growth in gateway communities across the West and found between 2013 and 2018 populations increased by an average of 8.2%. While growth can be a lifeline to struggling rural communities, it also comes with problems that could place small towns on life support.
In the study, researchers surveyed over 300 public officials in gateway communities in the West and interviewed 33. "We've seen lots more housing challenges, lots more traffic congestion, pressures on our infrastructure, lots of interest in special events that bring a ton of people to (the town), just the overall crush of humanity coming," one survey respondent said.
"How do we start anticipating the problems that are fundamentally altering some of these communities?" asked Philip Stoker, one of the authors of the study on gateway communities and a professor of landscape architecture and planning at the University of Arizona. "How do other communities avoid this in the future?"
One of the most important lessons learned is that towns need to start planning for growth as soon as possible, even if they have yet to see the hordes of tourists arrive and decide to stay. Being prepared can help smaller towns better manage the "big city" problems that other lesser prepared gateway communities are contending with — from health care to traffic congestion to unaffordable housing.
Big city problems
For years, Jackson Hole has been a poster child for the problems that come when tourism and wealth dominate a community.
"For decades it's been under tremendous pressure to balance growth with protecting wildlife and protecting what people value about the community. And now with COVID, it's just the same challenges but on steroids," Luther Propst, a Teton County commissioner, said.
That's included everything from making sure hospital staff can afford to live and work in town and watching student populations and resources shift to private schools, to concerns over septic tank runoff running into the river.
But the top concern most gateway communities leaders cite isn't health care, education, sewer systems or even crime. It's finding an affordable place to live.
Fuller, who is 37, said she's only been able to stay in Jackson because after college she was able to rent her grandfather's house for a reasonable price, and later moved on to a family ranch.
"It's been the most extraordinary thing that I've had stable, secure, affordable housing," Fuller said.
Not all of Fuller's friends have been so lucky. Many have had to move away in search of affordable housing. Even Fuller is not immune to these worries — a county assessment of her property could saddle her with a property tax bill she couldn't afford.
"There's sort of a joke amongst families who've been here for a while that you're land rich and cash poor, because you have this huge asset that's worth oodles of money, but it has nothing to do with what's actually sitting in your bank account."
"Land is in very high demand, compared to really any other county in the West," Propst said.
Not only is Jackson a tourism reliant economy, but over the past decade it's become a magnet for wealthy retirees. Since COVID-19 hit, it's also become a magnet for remote workers in their 30s and 40s.
"I get worried because the real estate agents say that it's beyond what they've ever dreamed of," Propst said.
He recalled an email exchange with one real estate agent who had a client that wanted to rent a house in Jackson for two or three months before deciding whether or not they wanted to relocate permanently. The agent asked them how much they were willing to spend and they said $15,000 to $20,000 a month.
"I thought it was a typo and I wrote him back and said 'You put an extra zero in there,'" Propst said.
It was not a typo.
"How does the local person you know, a school teacher, a firefighter, someone who works in a restaurant, how do they compete?" he wondered.
The town has an affordable housing program, and private companies have even stepped in to build housing for their workers. But the situation has become increasingly dire as tensions between demand, affordability and availability heighten.
As the influx of wealth has put intense upward pressure on prices, making affordable housing tough to find in Jackson, workers have had to move. People either relocate across the state line to Idaho, which requires commuters to go over an 8,000 foot pass that becomes treacherous in the winter, or to they go south — in either Alpine, or Star Valley, Wyoming, which then forces commuters to contend with the avalanche-prone Snake River Canyon.
One winter, Propst recalled, the power company had to helicopter its linemen in from Star Valley, where most of the workers lived, to restore power to Jackson because the roads became too dangerous to drive.
In their research, Stoker and his colleagues found that while many towns tried solutions like encouraging accessory dwelling units (basement apartments or in-law units), developing publicly owned land for affordable housing and permitting tiny homes, nearly half of respondents still did not feel like their community was doing enough to address housing challenges.
In Jackson, the utility company, Lower Valley Energy, is working on building housing for its linemen, the Jackson Hole News and Guide reported. Propst said at one point the town required developers to provide funding for workforce housing, and they've rezoned neighborhoods. More recently, Jackson has also subsidized deed-restricted housing — discounted homes that require the buyer to either make the majority of their income in town, or qualify as low-income.
Park City, Utah, has also instituted some deed-restricted housing that caps the resale value to 5% of what the home was sold for to keep prices affordable for local workers and business owners. Telluride, Colorado, has a similar program.
"We've heard from a lot of communities that say they wish they'd done a better job of planning ahead, having a vision for their community," said Danya Rumore, founder of the Gateway and Natural Amenity Region Initiative and a professor in the College of Architecture and Planning at the University of Utah. It's important to start asking questions like, "Who do we want to be when we grow up?"
Planning for the future
How does a town know if it will someday be subject to the growth places like Jackson or Telluride, Colorado, have experienced over the decades? Stoker and Rumore are still trying to figure that out. They know that access to amenities like national parks or skiing definitely factor in, but otherwise it's still unclear what turns a town from pit stop to destination.
In their survey of gateway communities, they noted, "many gateway communities have not yet experienced growth and tourism but might, whether or not they want to."
Rumore pointed to Springdale, Utah, situated right on the edge of Zion National Park, as a town that's maintained a strong vision for its future.
"From our earliest general plan, which was way back in 1992, the town has been working towards the same vision. It's been a consistent goal we've been working towards for the past 25 years," said Thomas Dansie, director of community development for the town in southwest Utah.
That vision mainly focused on retaining Springdale's small town atmosphere. They don't want to exist solely to provide services to tourists visiting Zion, but still acknowledge it's a huge driver of their economy.
That's a desire echoed across communities in the West — 93.8% of respondents in the study of gateway communities said "a small town feel is important for more than half or all of their community."
"As you can imagine, at the entrance of Zion National Park, there's incredible commercial development and growth pressures constantly facing the town," Dansie said.
But Springdale has been "very protective of how we zoned our community." That means they haven't allowed designated residential areas be developed for commercial purposes.
The town is also cognizant of building height (they can be no taller than 26 feet), what colors are used, and to maintain the dark night skies, even outside lighting must follow specific guidelines — directed to the ground and fully shielded.
However, while Springdale has been planning for its future for decades, it's struggled to address the one problem that's becoming ubiquitous across small towns in the West: housing affordability.
"We're starting to see it being difficult to retain the next generation of Springdale residents because of housing costs," Dansie said.
Buildings don't make a town a community.
"I think it's important to recognize as with all planning and community decision-making: these are wicked challenges," Rumore said. "There's never a stopping point, you're never done."
And, for all the wealth and big city problems that have pervaded places like Jackson, there are still people like Fuller in Jackson who have remained.
Her grandparents faced their own challenges when they moved to Jackson. Her generation's challenge is to figure out how to make a living and stay in the town that feels like home.
She remembers that "even in high school, you would go hang out with your friend's parents, regardless of whether or not your friend was there, because the parents were also your friends." Pre-COVID-19, Fuller was still able to sit at a local bar and have a drink with her friend's parents.
Even with the influx of new residents, the community is still tied together. "You don't really have the option of being alone."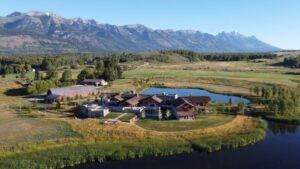 A 18,000-square-foot mansion on 215 acres built by Fintan Ryan starting a decade ago is pictured in Teton County, Wyoming, on Aug. 11, 2020. The house along Wyoming 22 went on the market early last year with an advertised price of $35 million. Bradly J. Boner, Jackson Hole News & Guide